Greater Visibility and Transparency
ProPlus provides everything you will find the basic platform with even greater visibility and transparency into our quantitative rating strength and counter trend matrices. See ChartlabPro's proprietary granular daily rating value for better position management
PROPlus Platform
$159.95

Per/month
$1300 / year (30% discount)
Sign up to PROPlus for better portfolio management.
Sign Up
Greater scanning Ability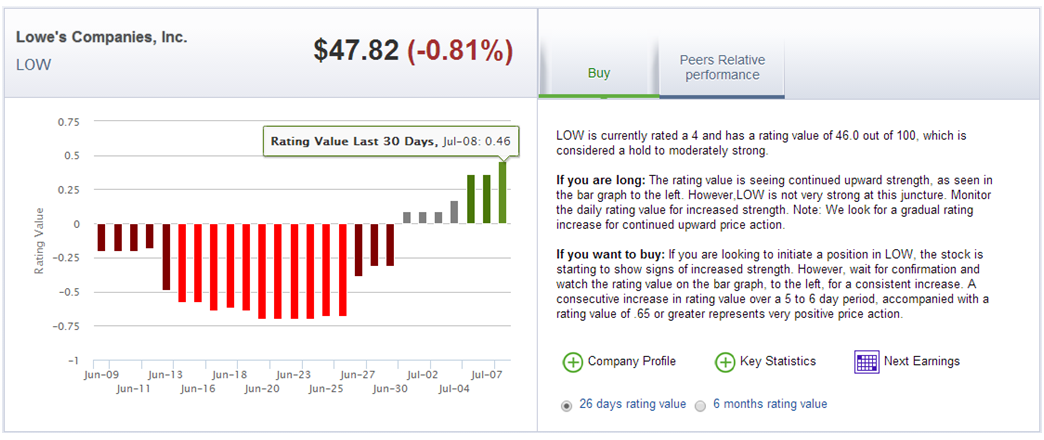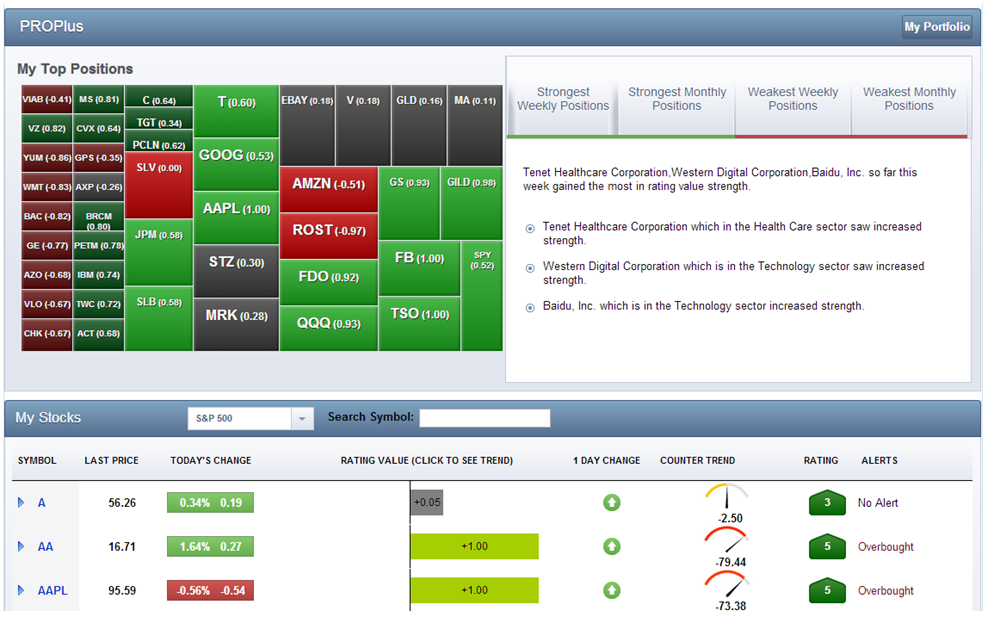 Greater Detailed Email alerts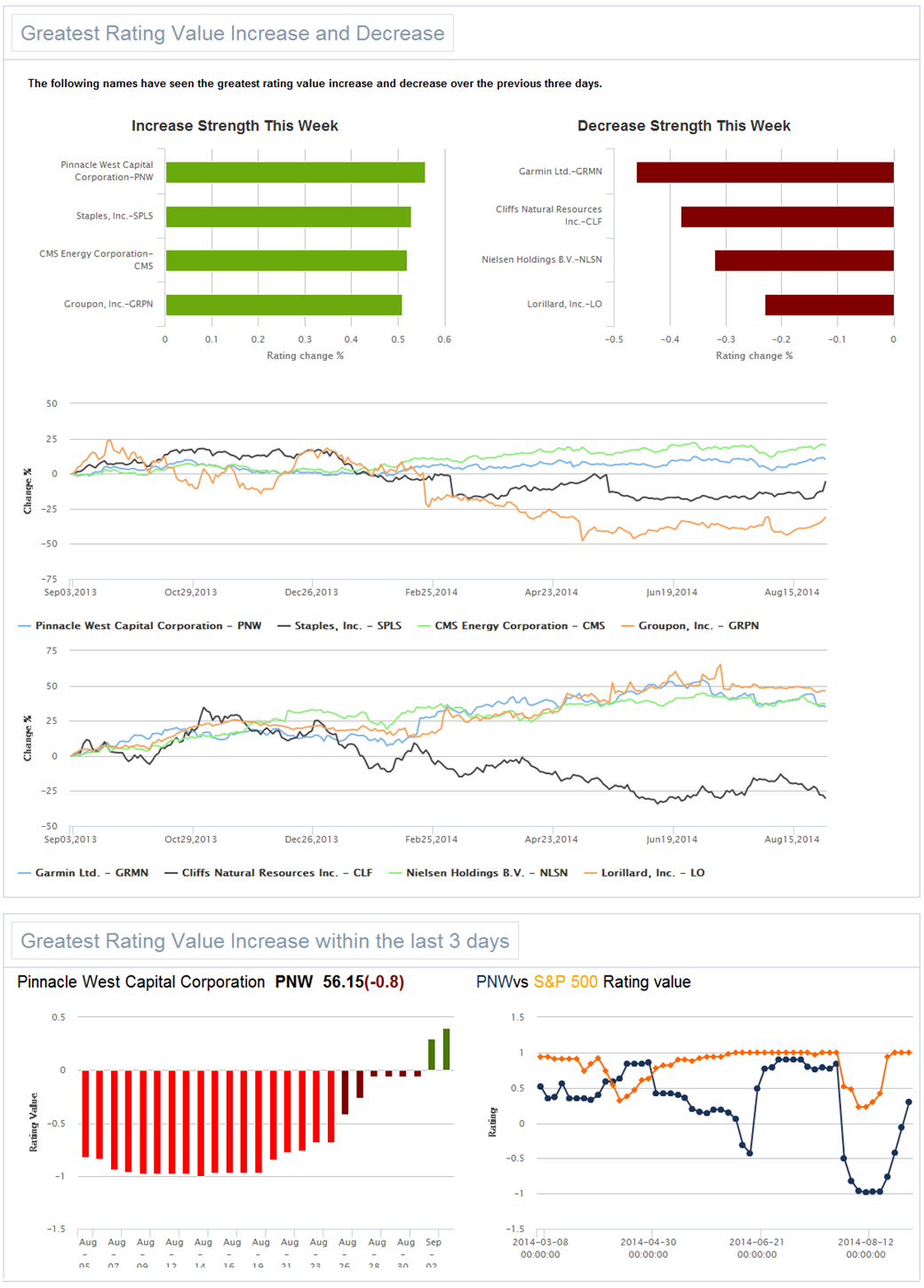 Plus you will have access to the entire full platform features.
Basic platform
Dashboard
The dash board will give you updated alerts every day to take control of your portfolio. You will be alerted if your stock has a positive or negative rating change so you can make the appropriate modification to your portfolio.
Find out if your stocks are buys or sells
Find out if they are in a bullish or bearish trend (short, intermediate or long term)
Proprietary Support and Resistance Levels
Pattern Recognition alerts
Company news, Company profile, Relative strength
Monitor average cost, Position size, Long or short
Sign Up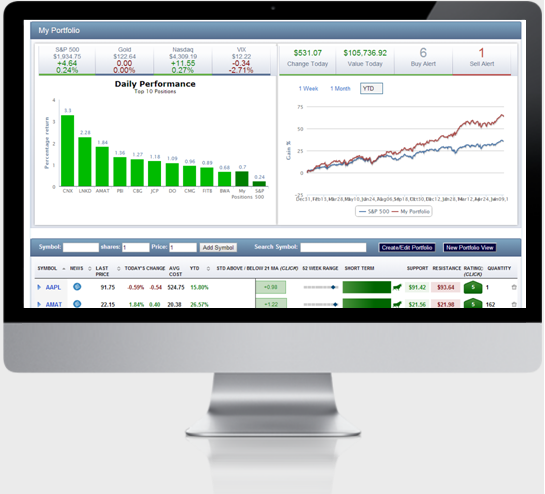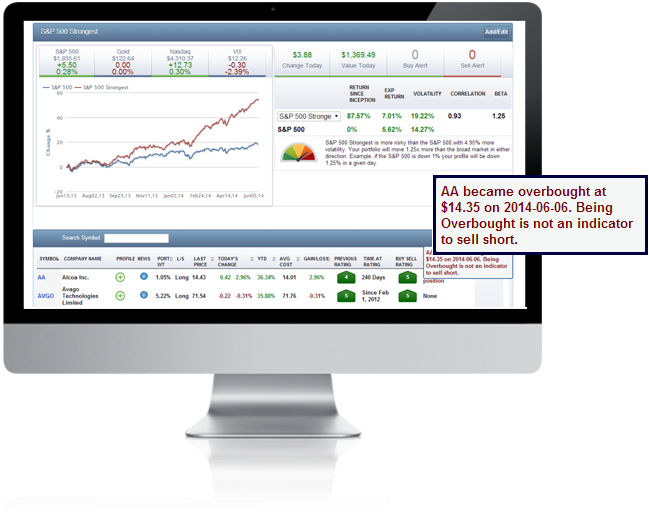 Sign Up
Create Model Portfolios
Create multiple model portfolios based on your criteria for risk and return. Manage your portfolio's risk by seeing your model's beta, correlation, expected return and annualized volatility.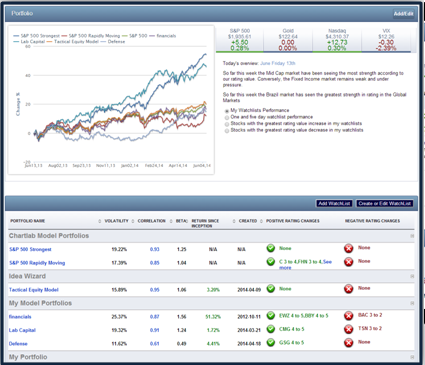 Sector Rotation
Our Sector Rotation page was designed to help discover changing patterns within S&P 500 sectors, so you can tactically allocate your assets.
Sign Up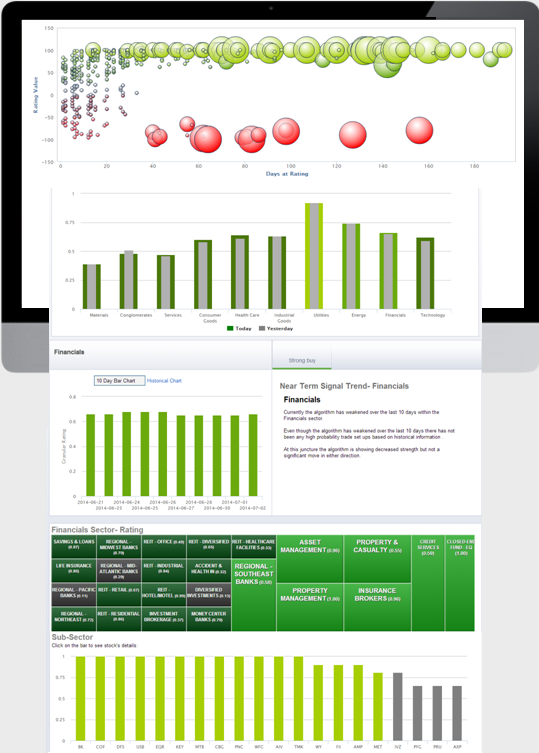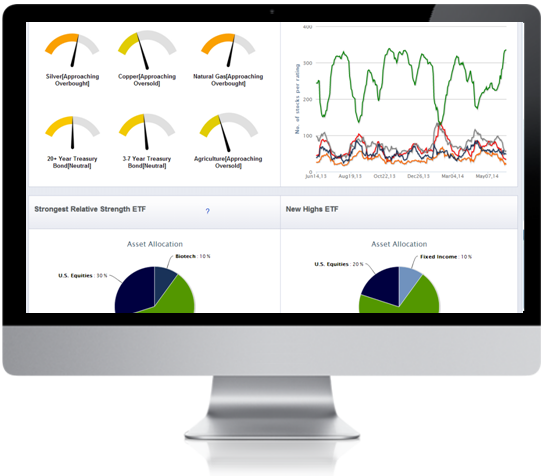 Market Internals
S&P 500 Signals
Historical S&P 500 Ratings
Strongest ETF's
S&P 500 Most Overbought and Oversold
and much more...
Sign Up
Portfolio Diagnostics
Discover your current asset allocation vs. your target asset allocation
Discover your sector exposure
Discover your security exposure
Discover your most risky positions and potential gain and loss
Review historical back testing
Sign Up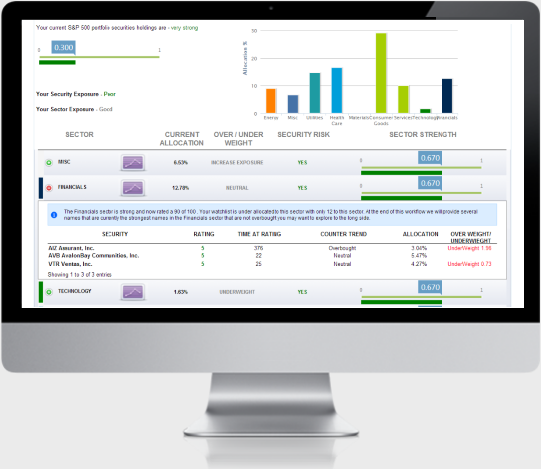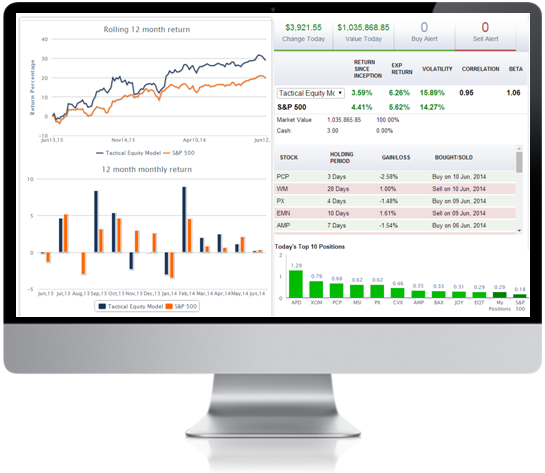 The Idea Wizard / Tactical Equity Model
The Idea Wizard helps establish a two step process to review the Tactical Equity Model. The Tactical Equity Model is a systematic quantitative program that formulates a view on expected short to intermediate term returns by analyzing the strongest S&P 500 stocks, on a momentum basis. The foundation for our research and strategy: Markets are not always efficient, and by allocating to the strongest 20 momentum stocks, within the S&P 500, we can create alpha while simultaneously minimizing downside volatility and risk. The momentum based model will dynamically adjust for systematic risk, as high beta stocks become crowded, and reduce equity exposure. Additionally, the portfolio construction will dynamically change as risk premiums shift in the market, and rotate into more defensive sectors.

Learn more about the Tactical Model's back tested results.

Sources: Tactical Equity Model. The above models results are based on a model portfolio - please read full disclaimer. Past Performance is not indicative of future results.
Sign Up
Buy Sell Rating Alerts
Receive email alerts on names you own or follow. Also receive alerts on sectors.

Alerts can be view on home page or email.
Sign Up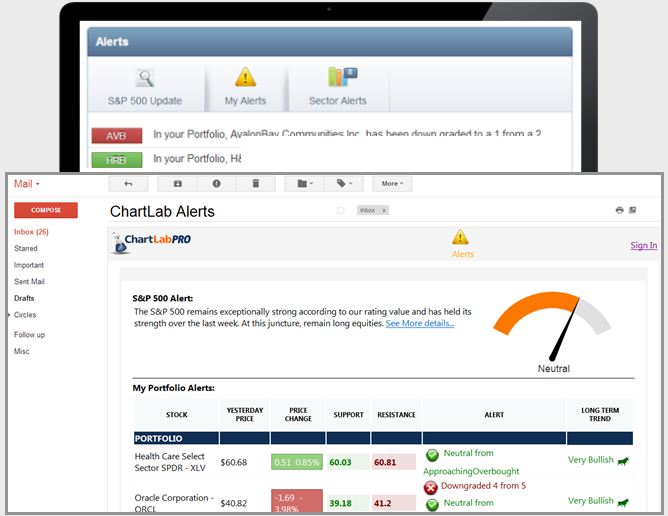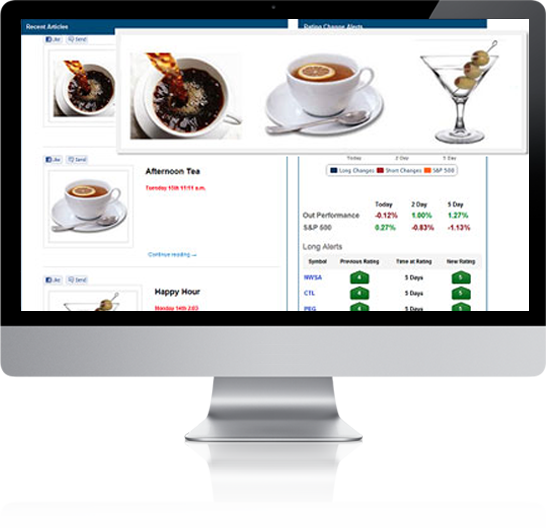 Morning Coffee, Afternoon Tea & Market Research
Chartlabpro.com offers market insight two times a day.
Sign Up
GLOBAL ASSET CLASS
Discover Global Asset Class Trends for the following Markets:


S&P 500
U.S. Small Cap
U.S. Mid Cap
High Yield
Fixed Income
U.S. Real Estate
China
Japan
Euzo Zone
Emerging Markets
Brazil
Discover both the 7 day and 6 month granular rating value.
Sign Up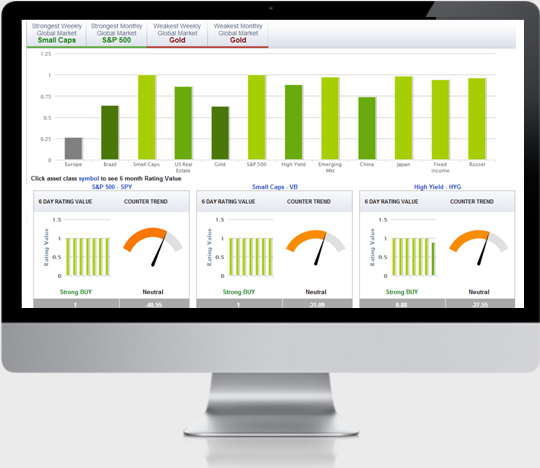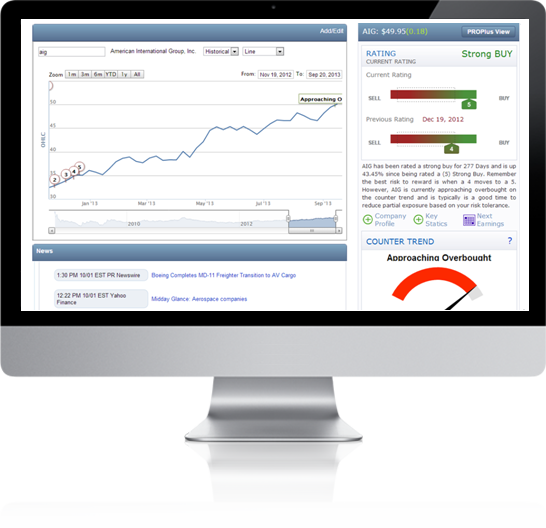 Automated Buy/Sell Ratings
Chartlabpro.com gives you rating changes from:
Strong Buy (5 Rating)
Buy (4 Rating)
Hold (3 Rating)
Sell (2 Rating)
Strong Sell (1 Rating)
The rating system will help you to determine when to enter and exit your favorite S&P 500 stocks
Sign Up
Rating Scan
Our proprietary algorithm scans the S&P 500 universe for the strongest names and tracks them for idea generation for your portfolio.

Our proprietary algorithm only measures S&P 500 stocks. We feel that S&P 500 universe provides the most liquid and efficient stocks.

Our scan allows you to view names for rapidly improving, contrarian and pair trades ideas.

We have been using this same algorithm for more than 15 years to run professional money
Sign Up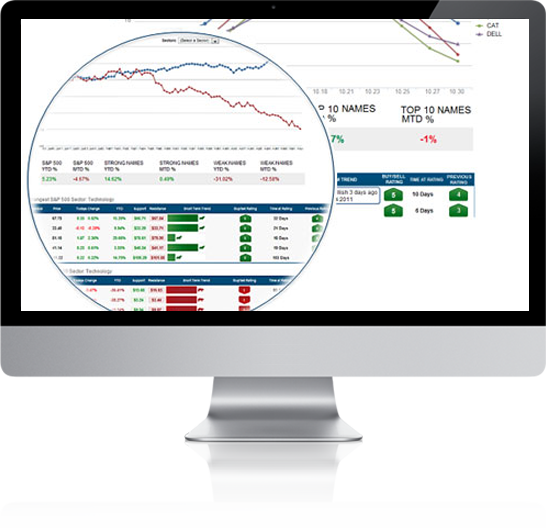 © 2013 chartlabpro. All rights reserved.
TheChartLab.com and ChartLabPro.com is not a registered investment advisor or broker-dealer, and is not licensed nor qualified to provide investment advice. There is no requirement that any of our Information Providers be registered investment advisors or broker-dealers. Nothing published or made available by or through TheChartLab.com and ChartLabPro.com should be considered personalized investment advice, investment services or a solicitation to BUY, SELL, or HOLD any securities or other investments mentioned by TheChartLab.com and ChartLabPro.com or the Information Providers. Never invest based purely on our publication or information, which is provided on an "as is" basis without representations. Past performance is not indicative of future results. YOU SHOULD VERIFY ALL CLAIMS, DO YOUR OWN DUE DILIGENCE AND/OR SEEK YOUR OWN PROFESSIONAL ADVISOR AND CONSIDER THE INVESTMENT OBJECTIVES AND RISKS AND YOUR OWN NEEDS AND GOALS BEFORE INVESTING IN ANY SECURITIES MENTIONED. INVESTMENT DOES NOT GUARANTEE A POSITIVE RETURN AS STOCKS ARE SUBJECT TO MARKET RISKS, INCLUDING THE POTENTIAL LOSS OF PRINCIPAL. You further acknowledge that TheChartLab.com and ChartLabPro.com, the Information Providers or their respective affiliates, employers, employees, officers, members, managers and directors, may or may not hold positions in one or more of the securities in the Information and may trade at any time, without notification to you, based on the information they are providing and will not necessarily disclose this information to subscribers, nor the time the positions in the securities were acquired. You confirm that you have read and understand, and agree to, our full disclaimer and terms of use, a copy of which can be accessed by clicking here and that neither TheChartLab.com and ChartLabPro.com nor any of its Information Providers is in any way responsible for any investment losses you may incur under any circumstances.