X
Do you want an investment edge?
If you are using the same information as the crowd you have no edge. Learn how to apply our models for the following:
Buid a repeatable 5 minute trend following process.
Quickly Identify sector rotaion.
Quickly locate trend following buying opportunities.
Learn when to buy and sell based on our process.
Learn what technical to avoid for maximum trend following gains.
Bonus, enter your email for periodic special discounts.

About us
ChartLabPro.com is a leading provider of quantitative advice solutions for retail and institutional investors. The company is leading the way in helping investors create and manage institutional quality investment portfolios via its proprietary quantitative algorithm for security selection and portfolio construction. Its unique platform combines institutional-caliber analytics and a quantitative balanced approach to investment management provides an edge investors need in today's markets. ChartLabPro.com was designed for a wide range of investors. Our member base is comprised of individual investors, asset management firms, broker-dealers, and institutional traders and investors that is helping to deliver more insightful, actionable investment advice.
Brett Golden – President and Co-Founder

Brett Golden is currently President of ChartLabPro.com and Co-founder. Previously he was a principal for SouthPort Harbor Associates a strategic advisory firm for Alternative Asset Class mananger. Previous to SouthPort Harbor, Brett started Colonial Capital Partners, raising several hundreds of millions for hedge funds and public/private companies. He began his career at his family's investment firm, First Colonial Securities Group, which oversaw several billion dollars in client assets. During his tenure he was responsible for the creation and operation of ColonialDirect.com an online broker, which was a subsidiary of First Colonial. Following the acquisition of First Colonial, Brett joined the start-up firm, Advisor Software, created by the Founder and Chairman of Barra.

Louis Lukac – Head of Algorithmic Trading

Louis Lukac, is former Director of futures research for Prudential Securities and a long time registered Commodity Trading Advisor (CTA). Louis has been involved in developing, testing and trading algorithmic systems for over 20 years. Louis' formal training in trading system design and testing is well grounded and began while a graduate student at Purdue University. He is the author of many journal articles on trading system design and market efficiency issues.

The algorithmic systems employ computer assisted trading strategies based principally on technical analysis. Technical analysis uses internal market data (e.g., price, volume, open interest, sentiment) to determine price trends. No discretionary intervention has been utilized although ChartLab does reserve the right to utilize its discretion in extraordinary circumstances. The algorithmic program uses a wide spectrum of strategies including trend following, countertrend, and pattern recognition approaches developed and streamlined over many years of research. Additionally, this program incorporates a threshold level decision process developed initially by Louis Lukac and enhanced through further research by Brett Golden. The program attempts to optimize position signals on a daily basis based on the relative duration of trends in multiple markets and market sectors. Market sector allocations are based on several criteria, including historical profitability, sector balance, and liquidity.

Gabriel Bousbib – Advisory Committee

Mr. Bousbib joined Gottex Fund Management in 2005 as Head of Risk Management and Gottex Structured Products. Mr. Bousbib currently serves as Chief Operating Officer for Gottex Fund Management where he has overall responsibility for the firm's operations, treasury, structured products and information technology and information technology. Mr. Bousbib also serves as Chief Executive Officer of Gottex Solutions Services. He is a member of the Executive Committee of Gottex Fund Management. Prior to joining Gottex Fund Management in June 2005, he served as President and Chief Executive Officer of PlusFunds, a hedge fund managed account platform, until December 2004. From 1996 to 2001, Mr. Bousbib held a number of operating and corporate development positions with Reuters Group, including Managing Director of Business Development as well as Senior Vice President and Chief Operating Officer in the risk management division. Mr. Bousbib started his career in the securities industry in 1987 with Merrill Lynch Capital Markets, in Merrill Lynch's global derivatives group. Mr. Bousbib holds an M.B.A. from Columbia University Graduate School of Business and is a graduate from Ecole Polytechnique in Paris. Mr. Bousbib is a dual Swiss and American citizen.
Our Services
You won't find another service on the internet of institutional quality for close to the same price. You won't find another service on the internet of institutional quality for close to the same price

Buy Sell Rating Alerts Receive email alerts on names you own or follow. Also receive alerts on sectors Alerts can be view on home page or email.
Read more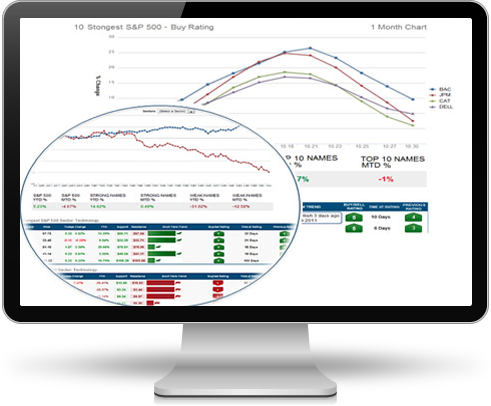 What our users are saying…
Around the time I registered for ChartLabPro and ProPlus, I had also registered on a trial basis to two other research platforms. My intention was to try all three, then after 3 or 4 months, keep only one. I've decided yours is the only one worth sticking with. The data you provide with ChartLabPro and ProPlus is unique. Also, you are the only one who seems motivated to continually evolve, improve, and enhance your platform. Maybe my best reason to keep ChartLabPro and lose the others is because I have actually earned a small profit tapping the platform's resources, more specifically, in AAPL and NKE.

Sal De Stefano

The chartlabpro Twitter

@SystemsTrader95 that is very kind of you...

— Chart Lab Pro (@ChartLabPro) March 3, 2013
© 2013 chartlabpro. All rights reserved.
TheChartLab.com and ChartLabPro.com is not a registered investment advisor or broker-dealer, and is not licensed nor qualified to provide investment advice. There is no requirement that any of our Information Providers be registered investment advisors or broker-dealers. Nothing published or made available by or through TheChartLab.com and ChartLabPro.com should be considered personalized investment advice, investment services or a solicitation to BUY, SELL, or HOLD any securities or other investments mentioned by TheChartLab.com and ChartLabPro.com or the Information Providers. Never invest based purely on our publication or information, which is provided on an "as is" basis without representations. Past performance is not indicative of future results. YOU SHOULD VERIFY ALL CLAIMS, DO YOUR OWN DUE DILIGENCE AND/OR SEEK YOUR OWN PROFESSIONAL ADVISOR AND CONSIDER THE INVESTMENT OBJECTIVES AND RISKS AND YOUR OWN NEEDS AND GOALS BEFORE INVESTING IN ANY SECURITIES MENTIONED. INVESTMENT DOES NOT GUARANTEE A POSITIVE RETURN AS STOCKS ARE SUBJECT TO MARKET RISKS, INCLUDING THE POTENTIAL LOSS OF PRINCIPAL. You further acknowledge that TheChartLab.com and ChartLabPro.com, the Information Providers or their respective affiliates, employers, employees, officers, members, managers and directors, may or may not hold positions in one or more of the securities in the Information and may trade at any time, without notification to you, based on the information they are providing and will not necessarily disclose this information to subscribers, nor the time the positions in the securities were acquired. You confirm that you have read and understand, and agree to, our full disclaimer and terms of use, a copy of which can be accessed by clicking here and that neither TheChartLab.com and ChartLabPro.com nor any of its Information Providers is in any way responsible for any investment losses you may incur under any circumstances.