May 30th
Nothing has changed from May 23rd.  Now the S&P 500 most likely will test the 3,130 level and I do believe we will see a pullback to 2,730.
As I mentioned in the last post, when the blended S&P 500 model increases from less than -70 to +35/40, the index 50% of the time corrects on average 7%.
May 23rd
Key Points:
I have been saying for a while now going back to April 29th that 3,000 and a possible overshoot to 3,100 was in the cards.  3,120 would be a 23% Fibonacci retracement level.
This does not mean in anyway I am long term bullish and certainly do not believe the current economic and unemployment back drop warrants even the current level of 2,950.
I do believe if the market was to overshoot to 3,100 we will experience a momentum crash over the next few months back to 2,730.
I also think if we have a hard fail at 3,000 the market will reverse hard.  The hard fail would be a 30 to 50 point spike to 3,000 or slightly above and close on the days lows and negative with more than average volume. I rarely look at volume as it is not a good indicator.  Take SPY for example, it has been averaging 50 million shares for the last 3 weeks and its 12 month historical average volume is 180 million.  There are no sellers and between retail investors and quants the market is so easy to push higher.
Covid19 has been a once in a century event, which has presented a once in a century market event.  In response and a complete game changer to back stop the market, the Fed responded by buying credit and junk bonds.  This helped tighten credit spreads to avoid a collapse in equity markets.  A complete false positive of the true state of the credit markets.
I think we can all agree this is not a free market and risk does not really exist and nor do fundamentals. So how do we invest in this environment?  That is really tough to answer unfortunately, but as long as you are aware of what is truly driving the market and the potential outcomes this should help guide your decision.
The blended S&P 500 model is now -2.5, never before has it failed at 0, so I expect once it goes positive more buyers "Quant" will keep buying.  While 20, 21, 22 times forward 2021 earnings is total insanity with 25 million unemployed and where many small business will go bankrupt, the fundamental facts wont make a difference.  The big variable, how many of these 25 million people will have a job to go back to?  GDP is 3/4ths comprised of the consumer, not Facebook, Apple, Google and Amazon, so the recovery of unemployment in my opinion is key.  Furthermore, with more than 60% of S&P 500 companies pulling guidance, how can any investor have any visibility into earnings. The one positive that will create pent up demand is that the consumer has been saving significantly during the lock down.  This could create a surge in spending with a full reopen.
Between the low volume coupled with machines being the marginal buyer and buy and hold investors never selling, we can sit here with a completely broken fake market and by end of summer see the S&P 500 flat for the year at 3,300.   Is it possible?  Maybe.
 Lastly, the blended model is a -2.5, historically if the S&P 500 fails from increasing off a less than -60, the model fails on average +30. This would be about another 3% from 2,950, giving you around 3,050.  This is rather a rough estimate, but provides some visibility. Additionally, if the model does fail from +30 off a less than -60 counter trend rally, the average pullback is roughly 7%.  which would result in 2,828 on the S&P 500.  This obviously is extremely subjective and hypothetical and this move might not be as relevant to historical rallies and correction. 
May 20th
Impressive day as the S&P 500 sold off 31 handles yesterday off the back of Moderna news, which should have been a surprised because this information was out the previous day. Regardless, the futures recovered all night taking out resistance on multiple time frames by the quant trend followers.
As we previously stated, 2940 on the S&P 500 futures was a sizable level. I was expecting to see 3,000 a week earlier and now it seems like only a matter of days. 3,000 is the hard part because the trend strength will build significantly and bring in even more quants. I would sell some at 3,000, but I personally need to see what our rating value looks like if and when we do get there.  As I mentioned, on April 29th, we could see a overshot to 3,100, if the continues set up for it.
As the rating value keeps gaining in strength below more and more shorts will be squeezed and quants will just keep buying.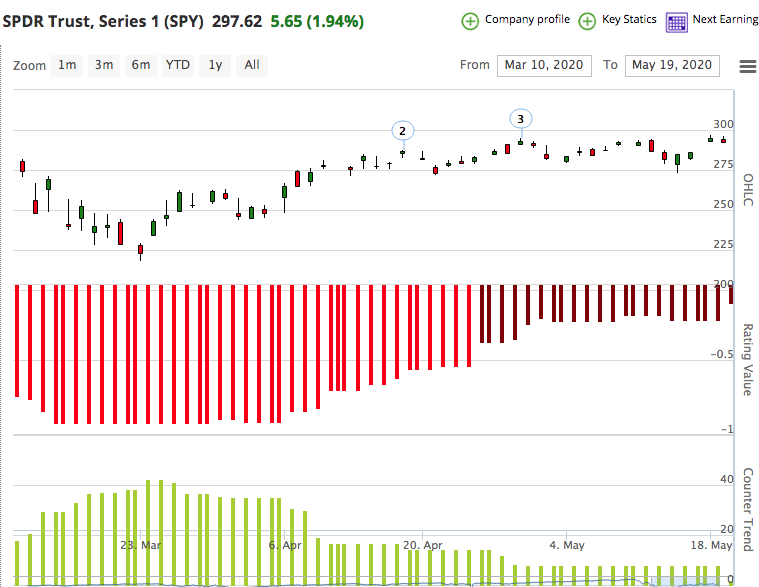 May 16th
Very little to report as the S&P 500 remained extremely resilient close above 2,830.  At this juncture, I would be surprised to see another retest of 2888 this week and a close above this level will potentially attempt for a 4th retest of 2940.  More tensions with China this week wouldn't keep the market from close at the lows, which was extremely bullish.  Everyone knows that this market is now completely backstopped by the fed, and its purchases of ETFs this week certain lent more support to the index's.
May 8th
Well the S&P 500 never took out that 2,830 level and buy programs three days later took out 2,888.  At his juncture a close above 2,940 will finally take the S&P to our second price target of 3,000.  To reconfirm we are sellers.  Do I think trend followers will take the market up past 3,000 to 3,100, it certainly is a possibility.  Again, as trend strength increases quants will just keep adding to their longs and covering their shorts.  We don't have to be fundamental analysts to know that this market is extremely expensive and that the machines are in control right now.  While I was never that bearish though this unfortunate event, I do think 20 times 2021 earnings at the current level is just absurd. However that doesn't mean we cant trade at 22 times forward earnings either.
I still remain in the belief that the reopening will not be smooth and a V shape recovery is not going to happen.  I believe price action will get weaker as the economy reopens.  However, the Fed will continue to keep a back stop in the market and I don't see the S&P 500 breaching 2,630.  If we do achieve 3,000, I could imagine a pull back to 2,730 would be bought.
May 1st
Update:
So we reduced equity exposure at 2900/2930, unfortunately we never tested 3,000 to reduce even more long exposure and it looks like we topped at in the short term at 2,965.
A close today below 2,830 will start to cause pressure on the market and 2,730 is the next level I would look for.
As I mentioned this recent 400 point advance in the S&P 500 was purely technical caused by trend following programs, not fundamentals. When companies cant provide guidance who can you even put a multiple on the S&P 500.
The market caught a massive counter trend rally off a -74 S&P 500 blended reading. Once the trend starts to strengthen all system traders come back into the market and either buy the index or stocks to increase risk.  This buying continues as the trend strength increases everyday. However, once this buying stops, and levels are broken the same machines keeping selling.
This move was nothing more than a swing trade in the index and I still believe at some point we will at least retest the large breakout area of 2,630.  I have no idea if we retest the lows, that would be highly dependent upon on how the economy reopens.
April 29th
As I mentioned on April 14th, we were looking for the following levels on the S&P 500:
Our first level of 2930 was reached today.  Futures are up 17 handles trading at 2958 off the back of solid earnings.  Reducing some exposure at 2,960 tomorrow is warranted.
Our second level between 3,000 and 3,030 is our next target to reduce significant exposure.
After hours MSFT and FB had very constructive numbers. MSFT is 5.50% and FB 1.85% of the S&P 500 weight, which should help press the S&P 500 higher tomorrow.  I think both of these companies between cloud and online ad business were able to not just tread water but thrive in this lock down.  As we know 5 companies in the S&P 500 make up 20% of the S&P 500 market cap and does not give a true picture of the health of the S&P 500.
While I think the market at 3,030 is getting way to ahead of itself, we could overshoot to 3,100 at which point I will be massively reducing long exposure regardless of any events.
Lastly, today's rally was was sparked by Gilead.  While Biotech and healthcare is not my area of expertise, I will say this seems like more of a short covering rally off the news.  The treatment is for the most severe cases and not a vaccine.
S&P futures Levels — Click to enlarge

April 27th
There has been no change to my S&P 500 outlook since April 14th.  While almost all investors will agree on a fundamental basis the current valuations are much to high, the technicals are controlling the market here.  The market is pricing in a reopen of the economy.  However, a second wave is the potential real danger.  Foe now the April 14th level are sill in effect.
3,030 represents a 62% retracement and the upper band on the keltner channel. I still believe if we test this level a pull back to 2,730 and even 2600 is possible.

April 14th
As we said last week on April 10th there was a very significant event of the Fed back stopping Junk Credit/Debt.   While on a fundamental basis I have a hard time buying anything at these levels, however, I am not a seller yet.  On April 8th, I provided a few levels were I would be selling some equities and based on the blended S&P 500 model I am increasing these price targets.  As you will recall on April 10th,  I said the model historically does not fail after a move from -74 to -45.  Therefore, the momentum right or wrong will build here.
No-longer selling 2,850 and moving this to 2900/2930 level.
Not selling significant amount of long exposure at the 50 day and waiting to sell into the 3,025.
As for buying on a pullback… You will only get that large pullback once we over shoot to the upside which is maybe 3,025. Don't ask what that level is because I haven't a clue nor does anyone else.  It will happen either on a second wave of infections once everyone goes back to work mind summer or companies in the 3rd quarter need to take down numbers again.  Until then there is no such thing as true price discovery as the Fed will back stop every market pullback.
If anyone wants access to me personally on the S&P 500 from 8 am to 6 pm as many times a day, I am available for $500 a month.  You can reach me at brett@thechartlab.com

April 10th
Small update to my thoughts from April 8th.  Yesterday the S&P 500 broke above 2,800 off the back of the Feds new program to buy junk bonds and even high yield ETF's.  This is very significant as the Fed said they will do what ever it to take to support the market.  My belief is the market believes the Fed will next support equities.
My belief is that this really puts a back stop on the down side unless something significantly changes from the current information that is already known.  While its impossible to put a multiple and EPS estimate on the S&P 500, its hard to believe the S&P 500 under the current -35 to -40 GDP in Q2 that the S&P 500 should be trading at 3,000.
However, the momentum is building from the blended S&P 500 model of a -74 to -45, typically you either keep seeing improved price action or a small retracement.  2,800 is a very big level and a close above it, I think 2,888 is very possible.
The market is not trading in my opinion on the real economic backdrop, however, once this momentum starts building from such current level, it can keep running.
April 8th
My opinion still stands…. 2,800 remove any long trades you have on.  Can we test 2,850 the initial break back in March 10th/11th?  Sure.  Can the fear of missing out based on that everything is "better rally" to the 50 day moving average of 2,900, yes and I would sell a significant amount of equities at this level.  This market is trading beautifully on technical's, and not reality.   So to sum up my thoughts.
2,800 seems very probable and would reduce equities at this level.
2,850 is the level the initial break in the S&P 500 will be a 100% retracement off the lows and I would reduce even more long exposure.
2909 the 50 day moving average.  I am a significant seller at this level.  This move would be purely the fear of missing out.
April 5th
What changed today?  Well On Sunday NY reported the first decline in deaths and cases of corona.  This was enough to get the futures bid up on Sunday night up 80 to 90 points.  The path to least resistance was the important 2,630 level we have referenced before.  NY being the hotbed epicenter of 150,000 cases maybe the most vital state for the flattening of the curve. While only 1.6 million people have been test for corona nationally, I cannot believe that the curve is really flattening when only 1% of the U.S. population has been tested.  However, we must take price as truth for the markets response right now.
So now what?  We had a strong close above 2,630 and the next level to be tested is 2,746 and a over shoot of 2,800 is in the cards.  This 2,630 close will cause buying and short covering by system traders.  This can all change on a dime if Governor Cuomo does out this week and says the peak of the virus was a false positive.
I believe this 2,800 move will happen this week and should be sold as this move will be largely technical.  There is zero fundamental visibility into the earnings for the next 2 quarters.  Playing this move is strictly a SPY trade as all sectors performed equally as bad in March. On a sector level… staples, energy and health care will lag and Semis will most likely lead.
Conclusion: Sell into 2,750 and 2,800 and wait to reload at a potential 2,500 as we will see lower prices.
April 1st
We said take some profits on March 26th going into Wednesday as all the traders that tried front running the massive pension fund re-balance were going to dump the market on Wednesday.  We did think the rally would have gone even higher, however, the index only hit 2,630.  Regardless, we said sell into this pension re-balance. Today's price action was strictly a function of this trade unwind. This was not because of Trump's statement of a tough two weeks ahead and potentially 100,000 to 200,000 deaths, this was already out there by Dr. Fuaci on Sunday.
So now we have a higher probability of a retest just because we are very close to the 2,280 level.  For no other reason large capital will just wait it out for this level.  I think a panic break below this for short term traders can be bought, 2,250.  For conservative investors who can not afford another 10% decline, I would wait for 2,050.  I am not saying we will hit 2,050, but just based on a P/E metric its certainly not out of the realm.  If 2,250 cannot hold on a Friday close I would reduce this trade, and wait for the next level of 2,050.
What is unclear to me is is currently there are only 4,000 U.S. deaths and the administration is projecting at least 100,000, I have a hard time believing people will be going back to work before June 1st.
March 30th
Friday I expected the S&P 500 to close at least flat which reversed 80 handle into the close for a few reason that are now not important. I really thought today we could have seen the index close above 2,664.  I am now reducing the resistance level for Tuesday and think any advancement close to 2,700 should be an area to reduce just some not all equities.  I do think Wednesday we will see some selling pressure after the pension re-balancing is over.
March 26th
Impressive rally the last 2 days closing at 2,630 for the S&P 500.  Don't get trapped in this move, this market is bid up because of the quarterly re-balancing of $850 billion form Pension Funds, Sovereign  Wealth and Define Benefit plans.  This re-balancing will be over on Tuesday.  This massive buy imbalance could take the S&P 500 well past the 2,664 level to 2,770, which I would be a seller in the short term.  Many investors come Wednesday will do the same in my opinion.
March 24th
So the blended S&P 500 hit the same level as December 26th 2018.  It could be taken either as a bullish sign or a possible more negative level as seen in 2008.  Do I think today was a bottom?  Again I don't think this type will be a V shape recovery, but its a start.  A close above 2,480 on the S&P 500 could propel the index to 2,664.  Would I sell at 2,664, to be determined what the data and news is at that juncture.
Today the market rallied 10% because equally of the economic plan and Trump pushing for businesses to go back to work early to mid April.. right or wrong.
Let me stress when the blended model is this negative, there is usually a false start and failure.  The only time this didn't have was Dec of 2018.

March 23rd
Today the S&P 500 closed down -2.56%, and was not as bad as the index looked.  Technology was very strong as defensive names continue to be sold. The vix closed down nicely 6.74% as the market believe the economic bill will pass this week even though it was blocked twice.  I hope this is a sign that we are putting in a bottom, a bottoming process does not mean we cant test 2,000.  However, volatility is dropping.
March 20th
What a bad close, that was about as bad of a close you can get.  We closed the week at new lows in the futures.  This is why you don't buy until the blended S&P 500 increases with strength, yes you will miss the first 10%, but you will not get your head ripped off.  As I said giving level is not prudent, but I know that everyone wants to know where this S&P 500 can go.
Because of Fridays close and the futures trading at 2,265, it is very possible to see 1,956.  Now if the economic package is passed and hits the wires Sunday night, I think we can stabilize and bounce. However, I expect to see more downside until this economic bill is passed.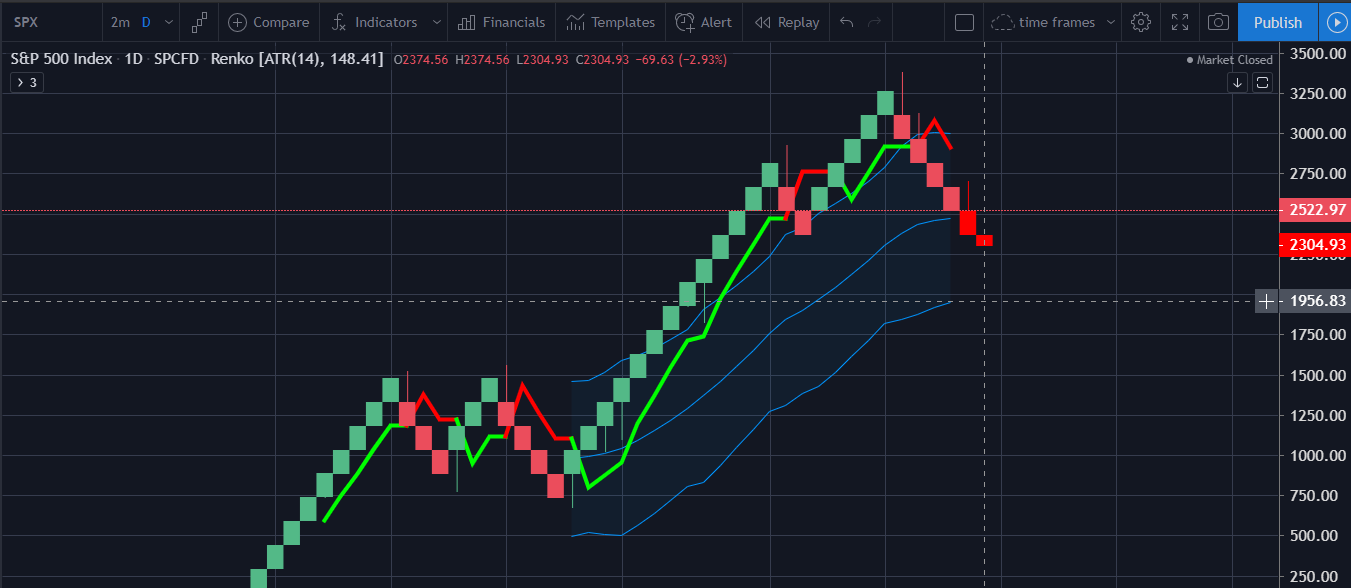 March 19th
I now think we are rather close to max fear, especially after JPMorgan cuts Q2 GDP to -15%, WOW.  They are looking for +8 in Q4.  I believe the market will try to start putting a bottom in down with the blended model here at -71.  However, there is no rush to jump in as this will not be a V shape recovery and will take a few quarters, unlike the Q1 2019 V shape recovery.  If you are sitting on a massive allocation of cash, picking up names or just the S&P 500 for 12 months out seems logical.
No one can really know if the market is cheap because who really knows where the S&P 500 EPS will fall after this implosion of earnings. So looking at a level at this juncture just seems inappropriate.  I would also keep a lot of cash in case we do retrace to the massive level where the S&P 500 first broke out where Trump took office at 2,050.  As mentioned previously, the most conservative strategy is now waiting until the blended model increase in strength to at least a -50.
March 17th
A few investors are asking should they be selling here as the media keeps through numbers out there that 1,700 to 2,200 on the S&P 500 is possible.  We anything is possible.  But my opinion is this. The blended S&P 500 model is now -68 the 4th most oversold level.  We held the lows in the futures yesterday and now bouncing.  So I think we can get a counter trend rally sooner than later, unless this turns out to be a 9/11 & 2008 reading of -90.  Which would be another 10% to 15% lower.  I believe if the virus just stabilizes not even reduces cases within the next 45 days this market will rally hard.  If the cases reduce by June, you will see a massive rally with all the liquidity within the system.  As long as the Fed doesn't reduce the liquidity while the cases decline, we have a strong case for a massive rally into Q4 2020.
The market is already expecting -5 GDP for Q2 as stated by Goldman Sachs recent note. They are also looking for +3% GDP for Q4.  All of this is very subjective as this is something known of us has seen in our life time unless you are 120 years old.

March 16th
So as we previously mentioned we are not buyers until the blended model is below -54 and then back moves above -40.  This would be a conservative approach to trying to allocate cash instead of trying to look at a level.  We are currently sitting at a -67, could we see 2001 and 2008 reading of -87 and -91, that could be the case.  That is why, calling a level here is just not the right process.
So to reiterate this blended signal, this is what I am looking for, it will lag a rebound however, it will help avoid putting new cash to work in a declining market.  A move from this level -66 to back above -40.

March 11th
Do not panic, do not panic, you will lose money, I am certain you will sell at the bottom if you sell here.  Will this get worse, 2,450 as Goldman stated this morning is certainly possible, but the market is discounting a lot already and will price in a recovery prior to the  worse.  If you are 100% long equities, I would NOT be a seller here or even at 2,650 that I think we will hit. The blended model is -50, I think we will get much better pricing on a large bear market rally off of a economic package or news that a vaccine is 3 to 4 months to distribution.
So if you are scared and want out, I think we will see higher levels to exit.  Just don't be emotional because that is how you will lose money.
This morning Goldman said they are reducing their S&P 500 EPS to $156 and target for the S&P 500 to 2,450 which would be around 16 times earnings, not cheap. I believe that scared the market, but these strategist stink, they are worth zero in their market calls.  Yes, I think this could turn out to be a self-fulling prophecy where Goldman and investors talk us into a recession and lower prices. HOWEVER, what I am looking for as a trader is different as an investor.  As investor I rarely want to be in 100% cash as I believe markets are upwardly bias, however, high levels of cash is a tool to mitigate risk.  What I am looking at as a trader is the Blended model to move below -54 and get over sold.  Once the model moves back above -40, should bring much more stability, less volatility and momentum should pick up.  What level is this, I haven't a clue nor does it matter.
The bottom-line is, we have 1 more quarter before this is over, but the market is discounting this already. We cant call bottoms or tops, however.  Since January we were very cautious that markets were overpriced and to raise cash and wait for an amazing opportunity.  Is that opportunity now, we are getting closer than not.

March 9th
Not much has changed with my previous statement.  I think Tuesday the best case scenario is a hard morning flush out of 2,650 and a green close.  Not saying this will happen, I am saying this is the best case as that will help form a bottom.  I will be back tomorrow morning to discuss further.
March 3rd
Futures on the close Friday jumped up 37 handles after hours to 2,988.  This morning, this morning you have the futures down 23, but that is not reflective of the fair value, so technically we are down above 50 to 70 depending on when you read this.  Sunday night the futures held 2,888, so I think any pullback today could hold that level.  I believe markets will start to become more desensitized to the virus and start to build a base.  I think 2,800 will be a testing point, but who really knows.  we have now contracted 3 multiples on the S&P 500, and trading around 17 times forward earnings (if we use Goldman Sachs $165 revised EPS.  That isn't exactly a bargain nor expensive.  I mean if we contracted another multiple, at $165 EPS to 16 times earnings that would be 2,650 for the S&P 500.  Is that possible sure, why not.
February 28th
Ok, futures on the S&P 500 hit 2,880 and expect 2850 to hold in the short term and then a possible bounce.  I think the blended model at this point will reach -50 and will be a safer area to get long.

February 27th
Now this is as bad a Sept 11th.  But I do think we will get through this ok, we just need to play this with some conservative levels. The close was terrible and as I mentioned yesterday the 2,980 level would cause more pain if breached.  Just to work off the complete overbought condition on the longer term time frame 2,910 is the next level.  That does not even mean the market finds support there.  Goldman came out today and lowered their S&P 500 EPS from $175 to $165 with zero earnings growth, which didn't help, but the market did rally off of that news. The S&P 500 did act very well today until around 1:00 as the futures were only down 15.  However, news hit that over 8,000 people were under surveillance in California for the virus.  This will be a real time decision, so please check back on where I would start adding to core positions or the S&P 500.
Two more thoughts that were positive today, yields stopped moving lower into the close and defensive sectors like staple and utilities got hammered.  That typically happens at the tail end of a large sell off. That doesn't mean we don't have another 3% to 5% to go. But if that is a bright spot to me.
P.S. Don't watch TV they are complete jokers!!! HAHA
February 26th
Trying to time the contagion with respect to equity pricing is not quantifiable. The available data is limited on the Corona-virus and therefore so is the predicting the outcome of the virus contagion. However, historically these epidemics (not a pandemic) are 100% transitory and once the supply chains go back online markets do rebound rather quickly within 1 to 2 quarters.   Even thought we said 3,050 or the 200 day moving average would be a tradable bounce, I think at this juncture, we will slice through it to the September break out of 3,005. I certainly would not allocate 100% at this level and only buy names you can live with for several years.  Let me stress, if we close below 2,980 because panic ensues on an increase of U.S. cases, we can certainly with no problem correct a full 20%.  While, I haven't a clue if this will happen not suggesting it, try to expect the unexpected.  Many of use have waited a long time to redeploy capital as the blended model was above 80 then 90.  So just be patient and relax, this is going to be a great opportunity regardless to add to long positions. 
February 25th
As expected we are touching the 3,170 level as corona-virus continues to distribute supply chains globally. Maybe we get a tradable ounce off the 3,170 level, but if we close below the 3,170 level the S&P 500 is likely going to 3,050 which would be a place to start allocating to the market.
February 24th
A close below 3,230 we are going to see some real selling tomorrow, if the futures open down at 3,170 level, I would expect a short term trade.
February 23rd
Quick update: Futures Sunday night are down -41 hitting the big 3,300 level off the back of Coronavirus contagion fears. The 50 day moving average in the S&P 500 futures are 3,275, I wouldn't be surprised to see a bounce here as since Oct it has held.  However, if 3,275 doesn't hold on a closing basis its going to get real ugly quickly.   3,177 will be the next stop and if that doesn't hold 3,050 is the next support level.  While it is impossible to gauge how much disruption to the global supply chain this causes, the market was massively overvalued and bought.  For those of you who have building a high level of cash, 3050 would be potentially a great opportunity to deploy capital.  I am not saying we will correct 8% to 10%, I haven't a clue.  However, a typical 10% correction with a massive bull market seems like a game plan.
February 20th
Since the blended model has hit a 92 we have seriously questioned the markets moves.  I think its relatively easy to quantify the injection of term repo liquidity coupled with PBOC rates cuts impacts on equity markets.   Now today we sold off on no clear catalyst.  In my opinion, I think the 10 year yield is getting close to a level the equity markets are starting to get concerned. There are a few reasons I think yields are going lower that is not necessarily a sign of slowing growth.  But regardless a close below 1.47 I believe could send the S&P 500 back to its 50 day moving average as a wake up call of risk.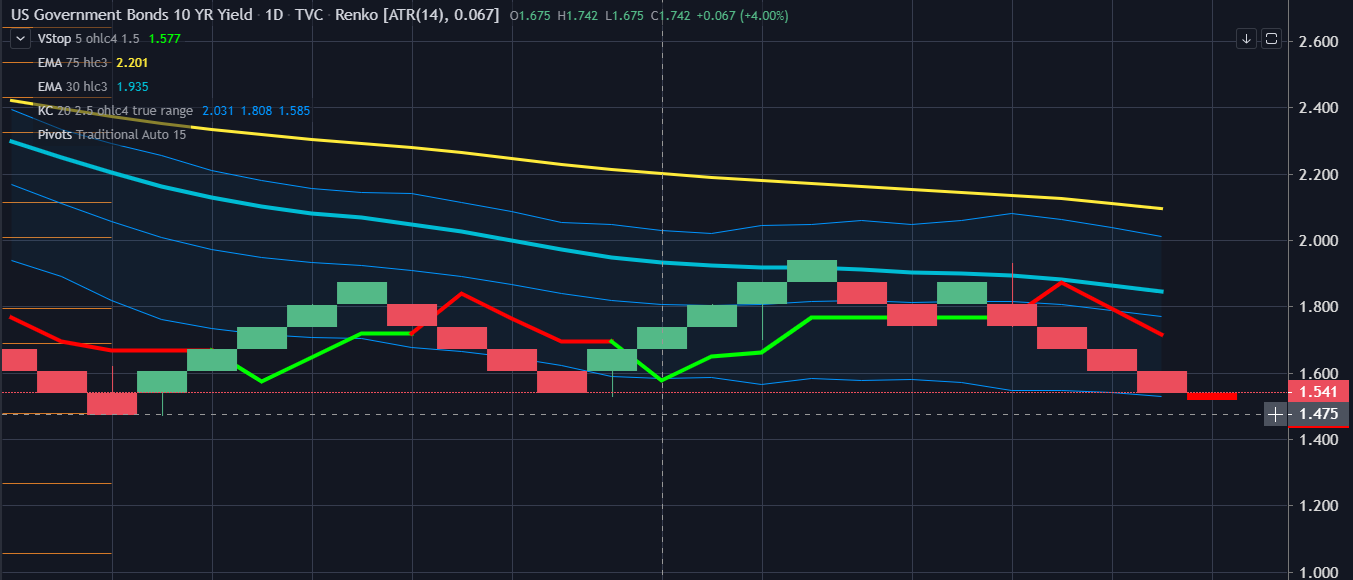 February 18th
What can I possibly say.  Back on January 27th I thought the 50 day moving average would be bought, but wow, it was bought and rocketed up almost 180 S&P 500 points.  Even the worlds largest tech company and the biggest S&P 500 and NASDAQ component warned on guidance and the market was only down 8 handles off the back of not being able to meet demand from the corona virus.
While I think the market is much too optimistic, between the Fed and the PBOC dumping ends amounts of liquidity into the market, there seems to be no risk.  The next major level for the S&P 500 is 3,460 and we can be there within days at this point.
January 29th
The S&P 500 attempted to fill the gap at 3,290 today.  Unfortunately, not luck.  In the short term there is little to take away from this.  However, if the S&P 500 does fill this gap and close above 3,290, I would expect an attempt to its all time highs.  Again, I think everything is over valued at this juncture and still would be cautious.  I do think sellers are now selling into strength at this juncture, and not momentum will slight deteriorate. I really do not expect a large pull back, but 5% to 6% from current levels over the course of the next several weeks seems probable. As I have mentioned many times, a reading above 92 on the blended S&P 500 model take several weeks to see any pullback.
Below I am adding two charts from Factset for your viewing pleasure.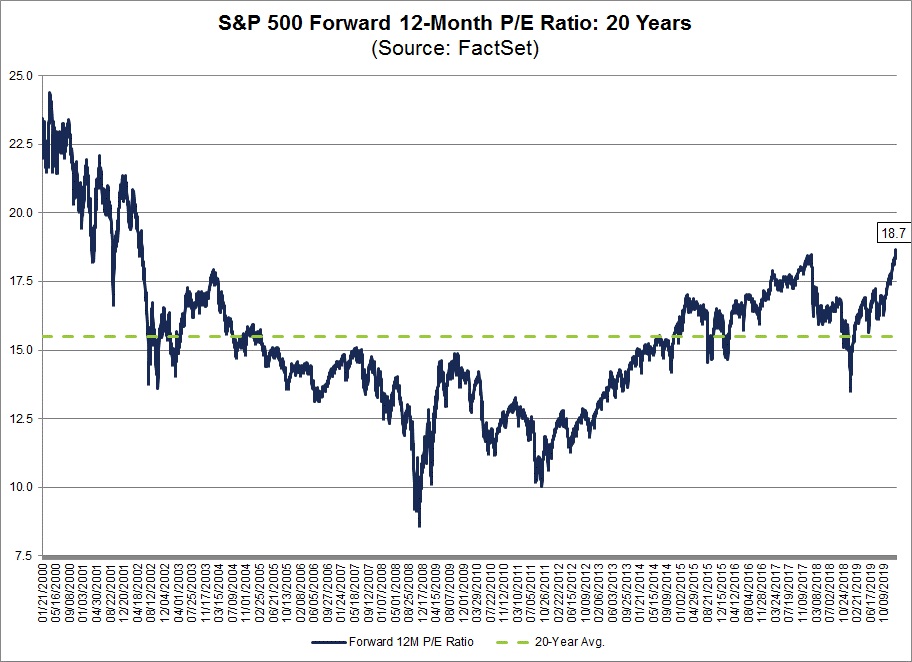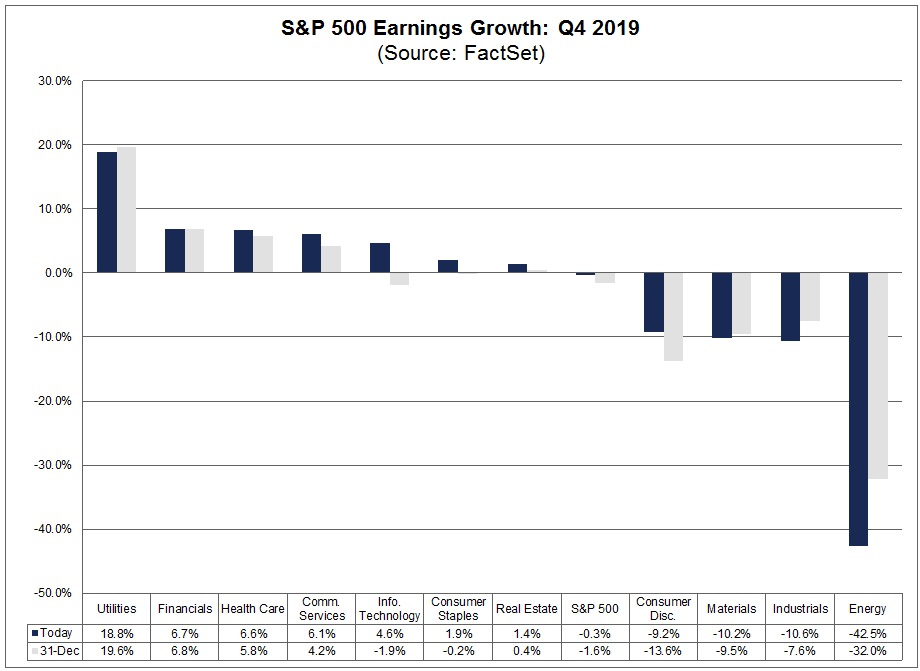 January 27th
I have very little input regarding the Coronavirus.  What I will say is two things 1.) the Coronavirus was only the catalyst to reset market prices that were very overextended.  2.) I have not seen in 30 years an epidemic impact global GDP significantly that was long last, not even SARS.  Is it possible that this spreads significantly and reduces GDP by .50bps, surely.  What is the cost of that? 2 multiples in the S&P 500 which would be around 300 maybe, I am not sure? I think mutual funds and other investors will dip their toes into the market tomorrow if we see the 50 day moving average around 3,200.  Would I be excited to allocated at 3,200? Not really and I would like to see a pullback to the 200 day moving average around 3,005.  But until we see how tomorrow brings we won't know.  These situations are too hard to handicap as we don't know if the contagion will spread any further causing more panic. Again, I really think the only thing that can really stop the market is the Fed and reducing the size of the balance sheet.
January 22th
Today we want to discuss a recap of what we have been discussing for a few months and the current risks.
For 2019 we remained bullish yet, have reduced risk along the way.
September 12th we said: While I have said this bull market is far from over many times in the commentary and expect a blow-off top before the end, I didn't expect to see 3,130 before Oct's trade deal meeting.  However, that is a very likely reality now.  If this market closes above 3,035, there is no resistance until 3,130. The systems (quants) know this and so do the human traders, they are going to cover their shorts and get long.
Since mid December we said 3,300 and 3,330 was our last target was likely if our S&P 500 model below hit a 92 reading.  Now our S&P 500 model sits at the third most overbought period in 30 years, a 96.50.  While this is not a major concern, this coupled with the most overvalued market on a fundamental basis is.  See Enterprise Value to Ebitda Chart below.  As we mentioned below, if the current reading of 96 were to reach the highest reading ever measured of 109, that would be another 5% or 3,500 for the S&P 500.  Is that possible? yes, do I believe it is a low probability, yes.  Why?  Based on the current fundamentals.

The S&P 500 is now trading at 20 times forward earnings and the highest Enterprise Value to EBITDA level in 30 years ( see chart below).  Unless earnings are significantly revised higher, why should the S&P 500 expand another 2.5 multiples (i.e. 23 times earnings) to hit 3,500?  Historically, when the S&P 500 trades at a 20 PE the market is forecasting 10% plus growth.  As you can see in the first chart this is not the case.  If I am not mistaken the median Wall Street strategist is forecasting 3% to 5% growth for the S&P 500.

As a trend follower we know this game, we ride the strength and love strong trends, but we also understand the increasing risk of exhaustion followed by a consolidation period then a correction caused by profit taking.  These trends in recent years "both up and down markets" are starting to become more exacerbated because more money has been invested in quantitative funds (trend following, momentum, risk parity and volatility targeting.

The fun ride happens the same way on the upside just as the pain happens on the downside. Both buy and sell signals happen similarly.  The selling starts as shorter term frequency funds blow through there volatility stops. Once the short frequency funds have brought down their risk, next up you will get the medium term frequency funds to blow out of their longs. This put more indiscriminate selling pressure. Then lastly you get longer term frequency funds selling, ultimately not many investors are left to sell causing a bottoming out.  We saw this in Q4 of 2018.  The exact opposite now is happening, nothing more or less.  The market is not running because of the economy or earnings.  Its purely a factor of trend followers and quants buying as the index hits new highs based on Fed liquidity signals. 

See below the third chart, the Fed cant stop injecting more liquidity.

For those of you who believe these levels on the indexes are warranted the first chart below might make you think differently.  It represents the S&P 500 price in green and its earnings growth in red.  As you can see the S&P 500 earnings haven't really grown, which is fine.  2019 the S&P 500 saw -4% growth.  The market however is trading at 20 times 2020 earnings, assuming the resolution in the phase I trade deal coupled with the Fed backstop that earnings troughed and the index will grow well above 3% to 5% in 2020.  This is certainly possible, but to grow into 20.50 times forward earnings, you cant have earnings only growing at 5%.
As a systematic quantitative investor, we really don't care if the market is overvalued fundamentally. Fundamentally, markets can stay overvalued for a long time, but that is not the case technically (if you use the right technical models).  We and most quants will ride this trend until its exhausted and short term sell signals start to trigger.  However, its hard to get shorter term sell signals to trigger when the prices are so far above their mean price. But it will happen and when it does stocks will fall faster than they have risen. 
Conclusion: To have fundamentals overvalued and with extremely overbought levels is a reason to raise cash and wait for a better entry to invest.   Again this will take some time for the current momentum to fade then break.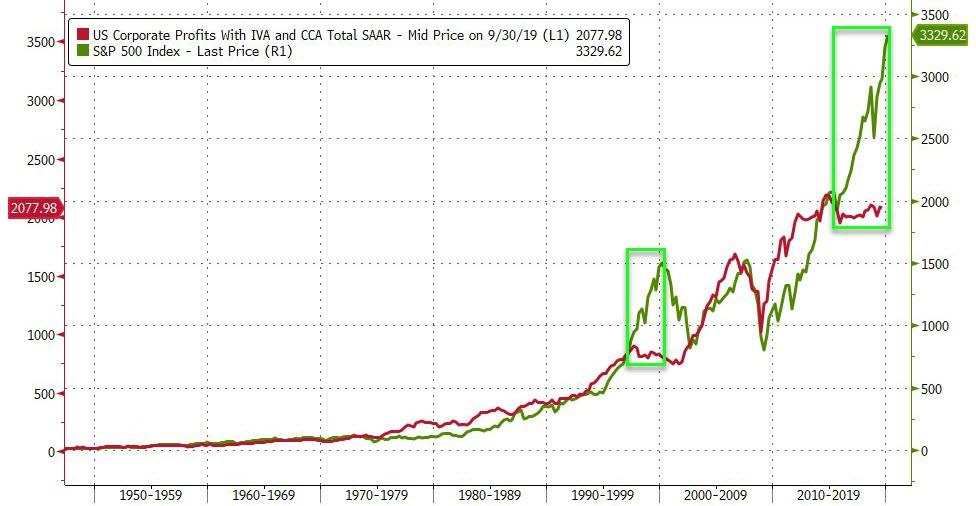 S&P 500 Blended Model – 

Click to enlarge

In case you missed this chart:
Interest note today form the worlds largest hedge fund and really nothing that most investors don't realize. Bridgewaters Co-CEO Bob prince is correct the "Boom and Bust" cycle is over.  Bob points out that is why this is the longest cycle in history as the Fed will not allow the economy or market to dip and keeps coming back into the market at every drop.  Lets face it, everyone know that this move in the S&P 500 of 11% is all the Fed.  The Fed injected 12% liquidity into the balance sheet and over the exact same time the S&P 500 rallied 11%. 

And the Fed isn't stopping just last week after a pause they added more to it's balance sheet.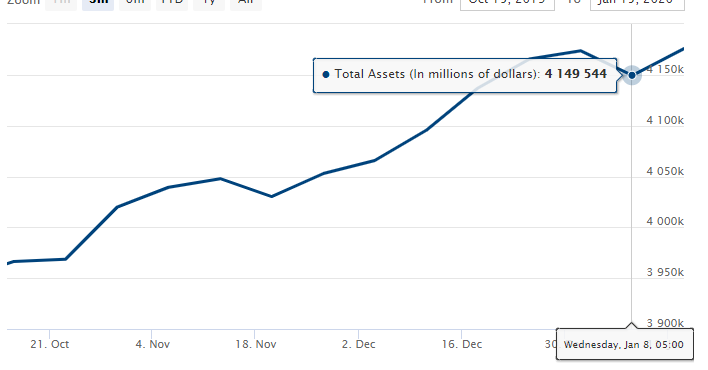 January 17th
So we hit our final target of 3,330 on the S&P 500 today. Here is an interesting chart of US financial assets is now 5.6 times the size of GDP!  Many strategists are calling for a January 2018 style melt up the market saw from the corporate tax cuts.  I am not saying this is possible, however, if that happens the S&P 500 has another 7% to go!  The S&P 500 model is sitting at 96 and the highest reading ever was January 2018 at 109 which would be another 7% or 3,500.  At that point the S&P would be trading at almost 21 times earnings. If the Fed refuses to reduce its balance sheet, why cant the S&P 500 keep moving higher?  Who is going to sell when the market makes new highs ever day and there isn't even short term sell signals.  I personally, do not believe these prices are warranted and will result in a painful issue as the market is anticipating a lot more than 4 to 5% growth.  However, when and at what level will the music stop?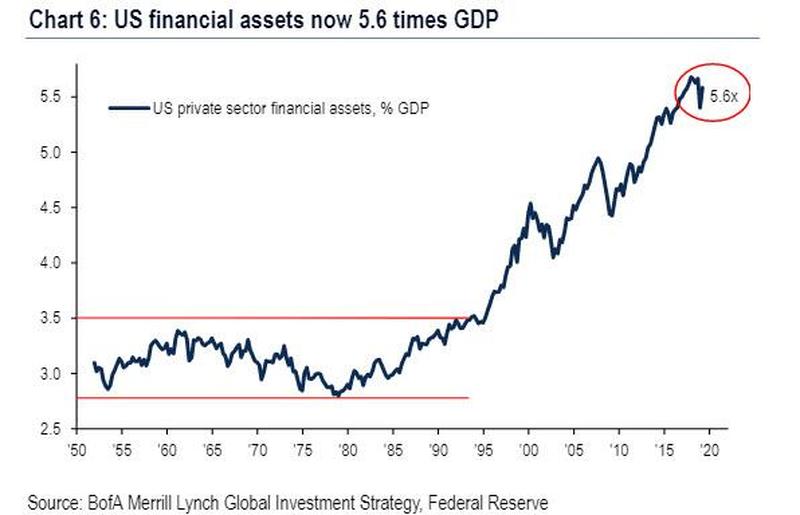 According to BofA, the S&P is overvalued on 19 of 20 metrics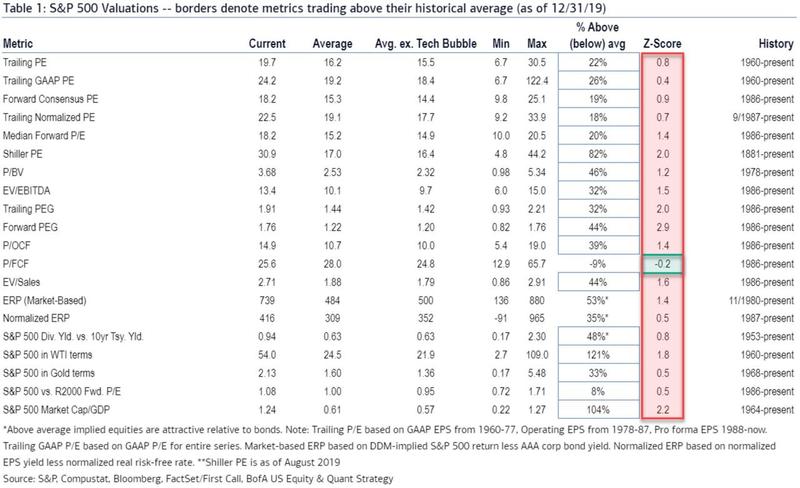 January 16th
OK now the S&P 500 is now at 3,312, in the middle of the 3,300 to 3,330 we discussed on January 9th and the blended model is almost at 95, the third highest level since 1992.  If earnings growth was really the leading driver I would be ok with this move. However, this market is too expensive.  A chart published on zerohedge below says it all.  The S&P 500 Enterprise to Ebitda and sales have not been this high since 1999 to 2000.  Now there could be a case made that these valuations will move lower if growth really picks up, but if it doesn't the market is in real trouble.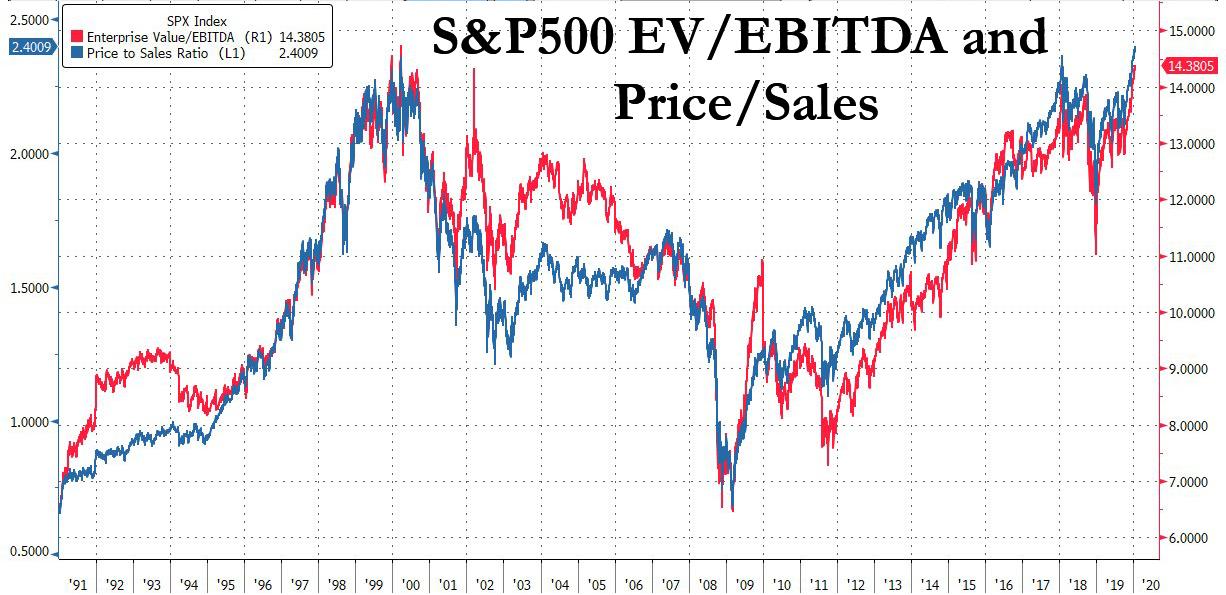 January 9th
Back on December 16th, I said our S&P 500 model was heading from 83 to a 92 reading which would take the S&P 500 to 3,300 or 2.5%.  Today the S&P 500 closed at 3,274 (26 points from target) and the S&P 500 model is reading now 91.99.  I expect to see 3,300 to 3,330 at which juncture start reducing equity exposure as to what you consider to be a higher level of cash for your portfolio on a historical basis.
Click on image to see 

For anyone who doubts this run in equities is not 80% from the Fed expanding its balance sheet, well just look at the graph below of the Fed's balance sheet vs the S&P 500. The correlation is almost 100%.  Just because we reach a 92 to 95 does not mean an eminent correction, the higher the reading the longer it takes for the momentum to break.  So I do expect a correction to take several weeks once we reach 92 or greater.
So how do we know when the market has put in a top? A simple inside/outside day (Island reversal).
You will make an explosive new high and close red and lows on the day on no news or developments.
Followed by the next day a gap lower than the previous close.
If this happens with our S&P 500 model greater than 92, system traders will start liquidating.
Remember, the Fed can continue to expand the balance sheet for a while, so its really a game of trying to watch when they will reduce it.  However, in my opinion the risks at a 92 and greater reading does not warrant being 100% long.
Click image to see chart

Lastly, stocks like Apple are strong evidence of how expensive stocks are getting.  Why?  Apple for the last decade has been trading at 9.5 times forward earnings and growing earnings around 12 to 13 times.  Today, Apple is trading at 21 times forward earnings and still growing earnings 12 to 13%.  So why the multiple expansion of 10 points for a stock that for a decade traded in the 9 to 10 range?   Partially, its the largest component of the S&P 500 and passive index's have to allocate to Apple.  Secondly, Apple is one of the biggest components to the value ETFs and money has come back into value since August.
Apple now has a counter trend of an off the charts reading of -97!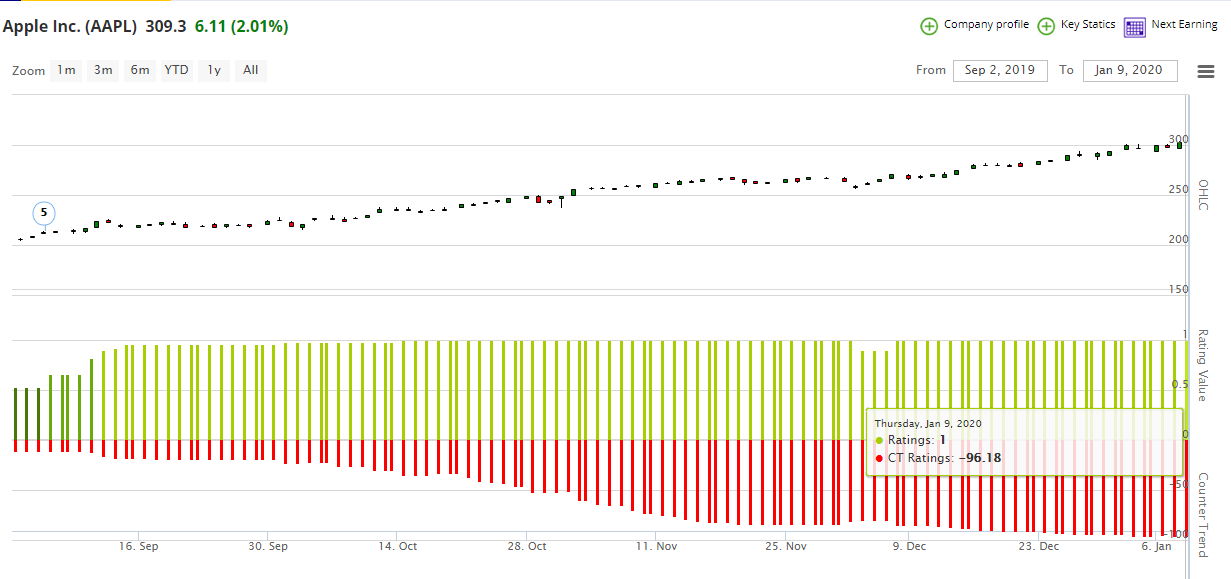 January 8th
Many people have been asking why not comment on day to day moves within the markets.  The worse thing we can do is overreact to all the news.  In my opinion, the geopolitical events in Iran did not warrant changing investors allocations.  These moves are often sudden and fast and tend to fade away.  A complete overreaction bias.  The thing that will change the direction of the market are two things: 1.) The Fed reducing its liquidity and this is 70% of the catalyst.  2.) China backing out of phase I 20%  3. And earning missing across the board on top and bottom, but I thing this will have little impact.
After an incredible 90 point reverse in the S&P 500 futures, I am still thinking the 92 level is around the corner which is about 3,290 on the S&P 500.  Who knows if we get there, again it historically take 4 to 5 weeks once we hit 92 to see a correct thereafter.
January 2
Happy New Years and welcome back. As we said on December 16th 92 on the blended model see's likely. As of today's close we are now sitting at 90, which will take the index to 3,300.  This will take the forward multiple up to 19 X 2020 earnings depending on whose estimate you are using.   At this point for risk adverse investors, moving to your most comfortable highest cash level is warranted. 

Dec 16th
Well the blended model is sitting at 83 now and it now seems like 92 is likely which could take the index to 3,300 and that shouldn't take long.  However, two things 1.) no one is selling into year end so I do expect January to see some selling.  2.) as long as the fed irresponsibly keeps their liquidity purchases at a record pace, this market has a back stop.   While I understand the Fed is crediting additional liquidity to unfreeze the repo market, it is the main driver of so called risk assets (S&P 500) in our case. And if you don't believe me, look at the correlation that is causation to the increased new highs in the S&P 500 as seen below by the Feds increased balance sheet.  Maybe earnings grow into their valuation in 2,020, very possible, but if they don't expect a nice correction.  In conclusion, we have more to go on the blended model before being overbought.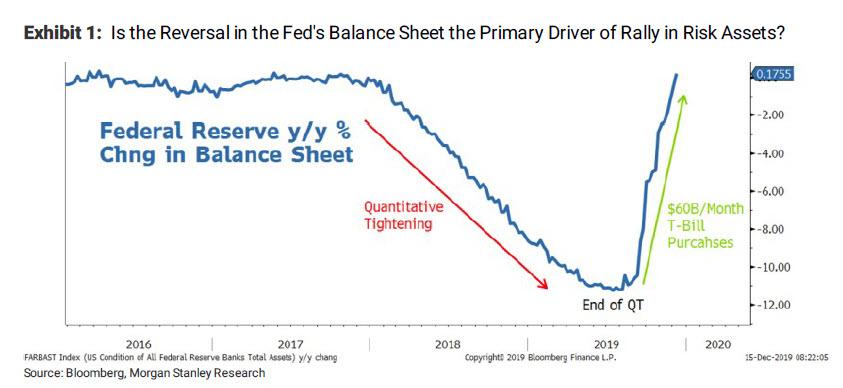 Dec 12th
My cautious tone over the last several weeks has proved to be a little too hawkish.  As I did state on December 5th a rollback in tariffs would possibly get the S&P 500 to 3,200, however, I felt the risk wasn't worth the reward.
At this juncture as the S&P 500 closed today at 3,168… 3,200 within the next 15 days should be no issue. Everything is lining up here for a medium term blow off top in late January well above 3,250.  The additional liquidity the Fed is injecting into the repo market is creating such a dangerous setup in my opinion.  We are now trading about 19.5 X 2020 earning in the S&P 500, depending on whose EPS you are using.  I just am growing more skeptical of both the Feds & administration to prop up the equity markets, more than I have seen in my 27 years.  In the mean time the counter trend for the S&P 500 is not even overbought crazily enough its only at a -49.
Dec 5th
Just a reminder December 15th we have the deadline for the Tariffs to be either imposed or rolled back.  I still believe that no substance has been made and Trump has propped up the market with misleading reports on the progress.  Buying some gold or raising some cash in my opinion is warranted at these level.  While its certainly possible he rolls them back and the S&P 500 rallies 2% to 3,200.  The risk is not warranted as the down side is much greater if December 15th ends with increased tariffs. S&P 500 will open around 3,020.
Dec 3rd
In our last post on Nov 18th we mention reducing some long exposure at 3,125 as the blended model was reaching 70 and now 80, slightly the upper range. The S&P 500 futures this morning are trading at 3,089 off the back of Trumps comments that he may wait for a trade deal until after the 2,020 election.  Trump has no one to blame if the market correct 4 to 5% as he artificially tried to prop up the market on misleading tweets about being so close to signing phase I in my opinion.  I have discussed my views that the market was overly optimistic (news driven algo actually) that we were any closer to a deal. I don't see why the S&P 500 cant retest 3,005 where we broke out.  Which may be a buying opportunity, unless December tariffs were actually put on and raised.  Which could take the S&P 500 back to 2,930 where the rally all began.

Nov 18th
Just an incredible move higher in the last month.  Many investors are scratching their heads at this point.  As we mentioned the market is pricing in greater growth for 2,020 and a bottoming out of a global economies.  I am not sure sure I buy into this theory as much as Fear of missing out, Fed Not so called QE of $60 billion bond liquid purchases.   The S&P actually is not really even overbought at this level with a counter trend at -39, as you know -69 is overbought.  However, I am just not a fan over the regime change of what is caring the market higher, Financials, Energy and Discretionary, all sectors that have tremendous secular headwinds.
For long term investors reducing a little might be warranted at the 3,125 level, which I believe I have mentioned.  For very short term tactical, I would not chase this here. Ultimately, once again, as I stated before the longest bull market is over, I still think we get a massive blow-off top which will be much higher from here.
Nov 11th
As we recall, I have been looking for 3,125 on the S&P 500.  We are now at about 70 on the S&P 500 blended model. Historically, the index does see some failure at this 70 level.  My first thought is that much of phase 1 is built into this level.  However, the index will have a back stop and don't see a sell the news reaction even if phase 1 is sold off because then you will have negotiations for phase 2.  I do think the risk is increasing as the smallest chance phase 1 cant be completed will easily send the S&P 500 back to 2,980.  However, trump is so desperate to get this phase 1 deal, he may completely wall back all tariffs as China is requiring.
Additionally, as we mentioned previously about bonds, the 10 year  yield just made a 5 months high and is demonstrating equities are risk on.

Oct 30th
Follow up from Oct 30th… I have very little to discuss as my thoughts have not change.  While I feel the trade deal is a shame and will be a zero sum gain and a waste of time as nothing will be accomplished in Joint venture partnerships, intellectual transfer and IP.  However, the market will take a trade war loss to move forward as we discussed.
The Fed cut .25bps today, on a day GDP came in at 1.90 and hit all time highs yesterday and again today… LOL… and consumer sentiment came in yesterday around 125.  Amazing, while I do understand the Fed wants to get ahead of a slow down, I also think its absurd to appease the markets this much.
In conclusion, my opinion of 3,125 on the S&P seems likely by year end, however, just maybe 3,050 will be met with some resistance.  It would not be unusual for some profit taking of weak longs and a possible pullback into 3,000 and a reload to 3,100 by year end.  But then again, if no deal is signed in Nov that could cause greater pressure within the market.
Oct 21st
The price action around the S&P 500 / equities to me regarding the China trade deal is rather crazy.  The Phase 1 trade deal being proposed is nothing different than the proposed light deal from 1 year ago already offered.  I am shocked to see investors think this time that any meaningful deal will come to fruition with China.  However, something has changed.  Trump's is caving for reelection, his advisers reportedly (Larry Kudlow) are telling him to end the trade war if he wants to get reelected. So far he has spun the Phase 1 as a big win, however, this deal has very little substance.  Trump has eased up on his tweeter rants and Kudlow today said Decembers tariffs could be removed.
This has been enough so called progress for the markets. While a complete waste of time and effort on the administrations part to get almost nothing accomplished in terms of meaningful (IP transfer – the real issue at hand) the markets will be grateful to have this behind it.  You have earnings coming in better than expected once again as the market was anticipating weak numbers.  Even if earnings and revenue were weak, the market would get a pass based on trade talk progress. Then we have the Fed's dovish positioning and news driven future traders bidding up the S&P 500 futures on any non-eventful news.   Lastly we are at a critical shorter term level on the 10 year yield and a close above of 1.865 could cause a big unwind of bonds causing risk on for equities.
Conclusion, as we mentioned back on September 12th, a close above 3,035 will take the S&P 500 up to around 3,125.  While I remain very skeptical of this so called Trade deal Phase 1,2 and 3.  Price is truth when it comes to your investment balance sheet.
Oct 11th
Very interesting day, the market rallied 52 points before any announcement was made.  Once the deal was announced for phase 1 the market did sell of about 20 points.  I don't read anything into this.  The $40 to $50 soy beans was a given.  What was not expected until mid day was the removal of JV on technology ventures and a vague deal on U.S. financial institutions.  Now we 5 weeks for this deal to be signed, then onto phase 2.  Unless something completely falls apart, I just don't see what is going to stop this market from worst case retesting the old time highs.  That is only 65 handles from the 2,970 level we closed at today.  Last for the first time in several months the 3 month and 10 year treasury yield uninverted.
Oct 10th
Just to reiterate our Oct 3rd commentary, we would reduce some exposure around the 2,940 level.  The market has been extremely resilient, but in my opinion that the recent resilience is more so a function of news driven algos that bid the market up and level human capital. I personally do not believe tomorrow's meeting will result in anything tangible except maybe more trade on Soy beans.  While I hope I am wrong, I think China can play the long game as Trump politically is in some trouble. Additionally, Trump will not cave on the important issue in terms of IP transfer.  The risk seems to be to the downside in my opinion and raising some cash to add to lower levels in my opinion seems prudent.  Leave long equity exposure is certainly warranted in case there is slightly better than expected outcome is achieved tomorrow. At which point, the S&P 500 will retest all time highs.
Oct 3rd
OK today didn't play out exactly as I outlined last night.  However, the S&P 500 did get a bounce close to the 200 day moving average.  The index saw a low of 2,855 before a massive rally back above 2,900 to close at 2,910.  The tell today was rates getting absolutely smashed as after a bad ISM services number, as once again the Fed needs to cut in Oct and Dec. I personally dislike these types of rallies off greater Fed cuts on bad data.
Tomorrow we have the big jobs number, estimates are looking for around 120,000k.
Three scenarios for tomorrow: 
Anything inline 90,000k to 140,000k the markets will hold steady and possibly move higher.
If the number is a blowout 160,000k to 200,000k the market will initially rally with a reversal most likely as yields rise on stronger economic data. Possibly even giving all the 23 points the S&P gained today.
Significantly weaker 60,000k to 80,000k markets pullback back to 2,888, yields crash lower and mid morning the markets go flat to green.
In the short term the S&P 500 has significant resistance at 2,940 and would sell some long exposure at this level.  One condition where investors will not want to sell into this level id off very constructive trade talks within the next few weeks.  I would not be surprised, without any new catalysts the S&P 500 could retest the 2,855 level.
Oct 2nd
Everyone just relax, this pullback is purely weak hands selling, that is it! The markets have recognized weak economic data for the past 12 months, excluding last months ISM services. We mentioned a few weeks ago we did want to sell into 3,030 on the S&P 500. The index only traded to 3,021.99, 8 points from our suggest level.  Maybe some of you reduced a little long exposure at that juncture.  If you did raise cash, now is the time we want to start thinking about reallocating that capital.  Today's close was weak and I expect more downside in the morning. As we mentioned yesterday, a close below 2,940 in the index would cause a possible fast drop to 2,966.
Tomorrow we have the ISM services number which in my opinion is much more relevant than the ISM manufacturing number. A strong number that show expansion will in my opinion reverse the last two days losses.  If the number is in-line I would be a buyer at the 200 Day moving average at 2,837.   All bets are off if the data point comes in significantly weaker than estimated.
Oct 1st
Today was a more worrisome sell off then the trade war sell offs. Today the U.S. saw the worst manufacturing slowdown since 2009.  There is nothing the Fed can do with this as it is a result of the trade war.  Additionally, I believe the market sold off even more as Trumps reelection odds grow dimmer off of a weaker economic contraction.  The S&P 500 held a big level today at 2,940.  A close below this level could cause a rather fast drop to 2,866.  Any positive news on a trade deal will reverse the negative impact of today weak ISM manufacturing number.  Unfortunately, I don't think that is on the horizon so soon. I would expect with no news overnight, tomorrow we test lower on the S&P 500 and buyers will step in to nibble.
Sept 24th
Hello everyone, its been a while as there really has been little reason to post as the S&P 500 has been working its all time highs.  In our last conclusion, we said 3,030 would be a good area to raise cash.  Unfortunately the index only reached 3,021.  If you didn't reduce some exposure and raise cash, not a big deal at this juncture.  The markets are full of nosy geopolitical events and certainly the markets do not want to lose Trump regardless of the trade war.  However, the markets certainly will not want Warren as president and that is the great fear of the markets.  Trump said he will release the full transcript underacted by Friday.  I am not sure the market cares enough after the market was unable to hold the post rally off the back of this news late day.   At this point its going to be rather binary, back to old highs if the transcript is deemed harmless or the markets reprice to 2,800 or lower if the administration really tried to hid interference of a foreign government.  Its an impossible bet to make.
Sept 12th
While I am surprised that the S&P 500 close that important gap of 2,945 prior to Oct's meeting, the market is certainly getting ahead of this Oct trade event.  In the last 4 years I don't recall a 3 to 5 jump in the S&P 500 as seen below on Sept 5th.

While I have said this bull market is far from over many times in the commentary and expect a blow-off top before the end, I didn't expect to see 3,130 before Oct's trade deal meeting.  However, that is a very likely reality now.  If this market closes above 3,035, there is no resistance until 3,130. The systems (quants) know this and so do the human traders, they are going to cover their shorts and get long.

I am not even sure a hawkish Fed can stop the rally if an intermediate trade deal is completed in Oct.  Its going to be extremely interesting to see what happens with the Feds Septembers meeting.  Today CPI came in the hottest in 11 years close to 2.40%.  While that is not a trend, the Fed is going to pick that up.
Sept 11th
The last 2 days have been complete devastation in the momentum space, the stocks with the greatest 12 month returns within the safety trade like staple and REITS have been sold off hard. Example MCD, HSY and AMT as a few. Why? Bonds were massively overbought with AGG reading a -88 on our counter trend on the fears of a trade war and recession. Risk came back into the market once the trade talks were reportedly back on for Oct and our S&P 500 rating value jumped from 3 to 5.  Statistical arbitrage funds bought value stocks that had the largest negative performance vs. the greatest return momentum stocks (staples, REITS, Tech). The most shorted stocks were being covered, sparking a rally in energy and financials. Additionally, volatility target funds and other investors sold interest rate sensitive names and defensive stocks as yields jumped from 1.47 to 1.73%.
Can this last?  I think Financials and energy could on the short term to Oct rally, but this will be a false rally breakout as Oct will be a sell the rally on trade talks.  Rates really started to stabilize and rally on the hopes of a trade deal resolution. I think the most beaten down momentum names given another few days could be picked up after more downside as money will flow into the names again after the trade talks.
Conclusion:
We said on Sept 5th to reduce some exposure at 2,945, now the S&P had made strong technical progress.  The next level will be a rest of all time highs of 3,030, which would be another level to sell some into (never ever go to all cash).  While I think no meaningful progress will be made in Oct's trade meeting, a small chance will be a positive bias.  This positive bias could cause a breakout to 3,130. 
Sept 5th
Welcome back and we hope you had a good summer. Back on August 28th, we said, "Conclusion: Today's move by China is a. nothing new b. is an attempt to push back Sept 1st tariffs.  I would still be reducing "some" long equity exposure at 2,945, NOT ALL.  If Trump removes Sept tariffs completely, we will see 3,000 in a hurry.  
Last night we filled the 2,945 gap in the futures after trade talks are to resume. The futures hit 2,968 which if we can close above this level, the old highs can be in reach.  I personally, do not believe a deal will be reached in Oct, but neither do most market participants. If you didn't reduce exposure at 2,945, let's give the market some time to see if momentum can build into next months meeting.  If the S&P 500 runs into Oct meeting, reducing exposure at 3,000 and above seems logical.

August 28nd
The S&P 500 swung in a 700 point cumulative range in August as the index traded between 2,829 to 2,930 like a well-played pinball game. Below is a recap of August's major market catalysts along with Trowbridge Capital's proprietary S&P 500 model's current reading, as well as August performance for the Dynamic Alpha and Dynamic Low Volatility strategies.
Consumer Data: Retail sales surge to 0.7% MoM (+0.3% exp) – the biggest gain in four months.
Fed Communication: Powell provided some clarity on the future rate outlook for September. Here are two key bullets from his speech:

Carefully Watching Developments For Impact On U.S. (China/US Trade)
We've Seen Further Evidence Of A Global Slowdown

Big Decline in Rates: 10 Year Yield dropped in August from 2.012% to 1.457%
Inversion: 2/10's yield curve closed the month inverted: (2's) 1.50% to (10's) 1.457%
Another Tweet: S&P 500 closed down 82 points as Trump tweets, "the vast amounts of money made and stolen by China from the United States, year after year, for decades, will and must STOP. Our great American companies are hereby ordered to immediately start looking for an alternative to China, including bringing.."
Dividend Yield Backstop: 8/29/2019: S&P 500 yield for the first time since 2009 has a greater yield than the 30 Year Treasury
Olive Branch or Decoy?: 8/29/2019 Chinese government indicated on Thursday that it wouldn't immediately retaliate against the latest US tariff escalation announced by President Trump a week ago. Gao Feng stated, "We firmly reject an escalation of the trade war and are willing to negotiate and collaborate in order to solve this problem with a calm attitude".
Conclusion: Today's move by China is a. nothing new b. is an attempt to push back Sept 1st tariffs.  I would still be reducing "some" long equity exposure at 2,945, NOT ALL.  If Trump removes Sept tariffs completely, we will see 3,000 in a hurry.  
August 21st
The U.S. consumer seems rather strong and as we all know 3/4 of GDP is the consumer.  WMT & TGT are two examples of this strength.  However, investors are fighting mixed signals of the inverted yield curve. Historical data have proven on average the U.S. sees a recession 16 months after an inversion even if the curve uninverts, but is this time different? I personally never like to invest based on this time is different.  However this time may be different. There is so much global liquidy from central bank easing, the money needs to find a home.  Many global bond yields are zero in large domestic economies, so Treasuries seem like a logical home creating a lot of demand on the mid to long-end.
As I mentioned several days back 2,945 is a sizable resistance level if we can close here on a weekly basis, once again we will see the shorts cover and many programs get net long. This could create a retest of the old highs.  However, since we cant possible to read into the future, reducing long exposure at the 2,945 level seems prudent.   We will evaluate the situation once we get there.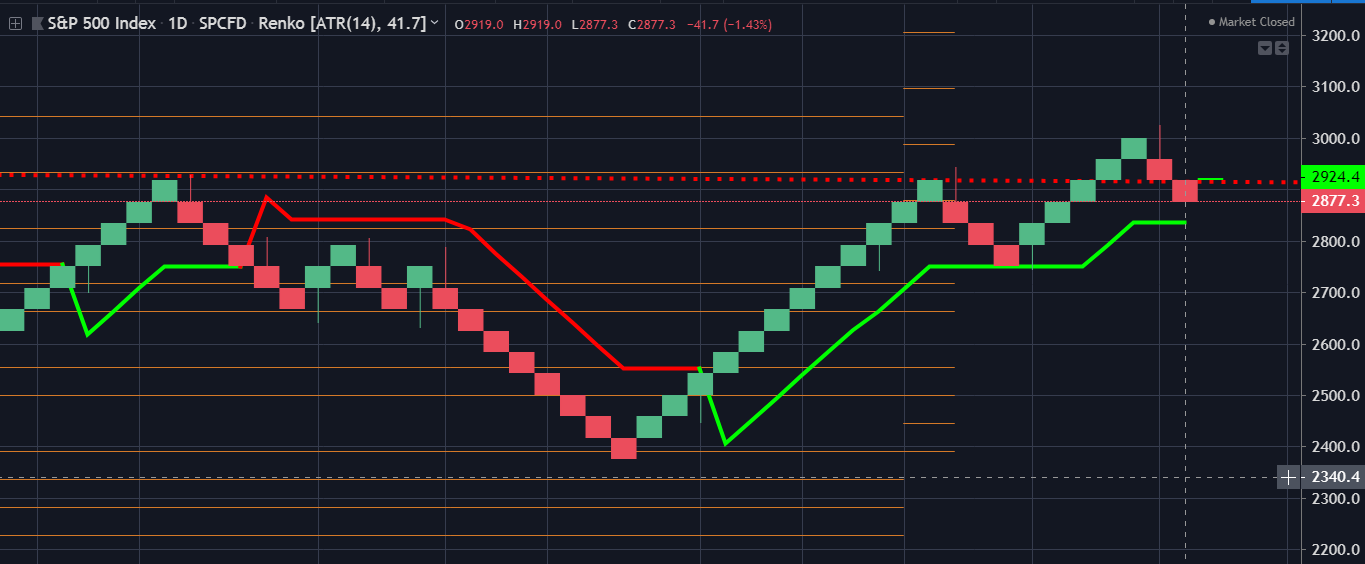 August 20th
Once again the volatility "especially" in the bond market continued today.  As I mentioned yesterday, we are far from out of the woods at this juncture.  However, I am surprised the market sold off 23 points today heading into the very politicized Fed meeting in Jackson hole.  I can see trading in this 2,777 to 2,930 zone for a while, until we get greater clarifty on rates, China and next earnings.  So conclusion, this is really a traders market for now within a 200 point S&P 500 range.
August 19th
It has been a wild ride, with the S&P 500 trading 200 points in 5 days.  2,817 held and we never saw the 2,777 that I was expecting to see for a test.  We are not out of the woods yet.  However, this morning the futures are rallying 31 points as we have three positive catalysts:  1. Germany is out discussing stimulus 2. China discussing rate reform 3. Trump administration giving Huawei another 90-day reprieve.  Rates are popping and the 10 yields jumped almost 4.40% to 1.62% but have backed off.
I am uncertain if today's gain will hold or not, the news-driven Algo traders typically keep a bid underneath the market.  2,945 is a major level to retest at this point.
The blended model is now sitting at 4, close to the 0 line we wrote about previously.
Trowbridge Capital Partners
For those of you who would like to outsource a piece of your total investments you can call or email me regarding our Dynamic Low Volatility Strategy at 917.653.3153  or  brett@trowbridgellc.com
Here are the highlighted details as of August 19th 1:12 EST.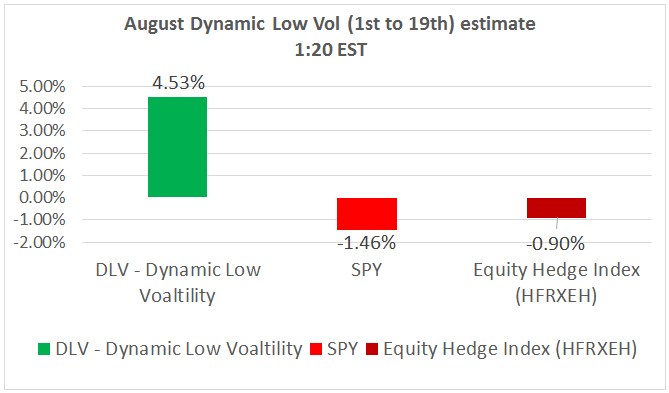 August 14th Post Market
We closed below 2,850 which will bring more selling tomorrow, this is not a big support level on a longer-term basis.  However, it seems like we will test 2,777 in the futures as we mentioned.
The yield curve as of 6 PM EST has reinverted.  We have all read the statistics that on average after the 2/10 curve inverts the U.S. economy hits a recession.  So I do believe after any correction, investors will get an opportunity at higher prices than the current level.
2,820 is a solid level on a daily chart, I would expect it to fail and test 2,777 in the short term. 
August 14th Pre-Market
A lot going on in the markets lets take a recap.
August 13th the S&P 500 rallied 50 handles to 2,926 as Trump delayed Sept 10% on $300 million additional tariffs on goods/services.
This morning the S&P 500 futures are down 43 handles as the 10-year yield inverted 1.59 below the 2-year note of 1.601.  However, the yield has uninverted for as of 8:31 am.
My conclusion is pretty obvious, impossible to trade around this and investors should be lighter on equities, higher on cash allocations. I think at this point the blended S&P 500 model will reach the 0 line and until the model starts to increase in value again, I remain short term cautious. Additionally, the Strong Buy to Strong Sell indicator needs to uninvert to the positive side.  I think 2,777 lows from the last week in the futures seems likely.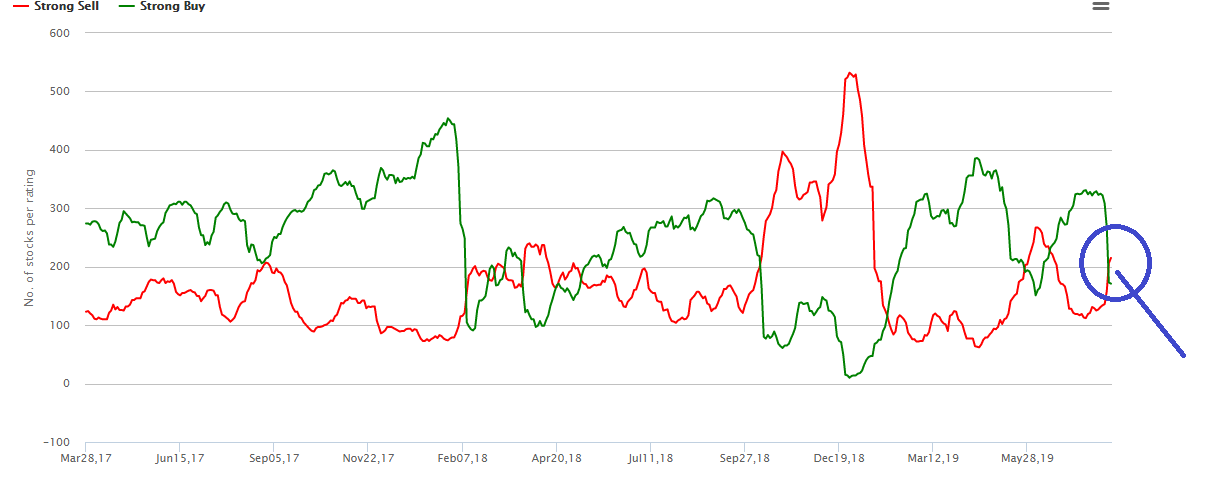 August 8th
Wow the last two days have been beyond impressive.  Our August 5th support level held very nicely at 2,777, but impossible to take advantage of the recovery unless you are trading overnight S&P futures.   I did think the S&P 500 model would see zero, but right now it has only declined to 23.  Today the S&P 500 close above that important 2,930 level we broke last week.  The next major resistance level on a closing basis is 2,970 then we will consolidate to new all-time highs.  As I mention on July 17th and several times prior, I am in the camp that the S&P 500 will have one major blow-off top before the greatest bull run in 80 years is over, possible taking the in ext to 3,200 to 3,400.
Conclusion, I think we will consolidate to possibly back and fill right now, maybe even a retest of 2,777, which will be bought. Right now the futures are trading down 18 handles.
August 7th
Global Yields imploding this morning and that is scaring equity markets.  S&P 500 futures reversed almost 32 points this morning.  The 10-year yield was down at one point 4.3% to 1.63 but has rallied off the lows a little. This is concerning as there is no major risk-off catalyst.  For risk-averse investors, buying the dip at this level is not warranted.
August 6th
A very powerful rally from last night lows from around 2,775, close to our second support level.  The reason is the PBOC (Peoples Bank of China) issues statement that the yuan won't keep falling and they set it slightly higher than originally feared".
Will this hold, I think we have a good chance as long as there is no further escalation with China.  However, Goldman Sachs is out this morning saying there will not be a Trade Deal before 2020, which seems very logical.
August 5th
Post-market
Almost impossible to handicap the trade war events. China has no intentions to work on a deal, so what is going to change the current sentiment.  I think more impatient investors will exit and raise cash and there is no visibility on a clear path to getting a deal done. You have two short term levels to watch, 2,808 and then 2,777.   At this point, I would expect to see the blended S&P 500 model get close to the 0 line.
Post-Treasury Announcement 
2,808 was breached in the futures around 6:00 as Treasury Secretary Steven Munchin labeled China as a currency manipulator, the first time in 25 years.  We will see what tomorrow brings for this 2,808 level and then 2,777.  If the index doesn't close above 2,777, 2,725 is the next stop.  Let's see what tomorrow brings, I think if the futures see the 2,777 level, buyers will step in, without any new negative trade war news.

Premarket
Quick note:  Friday we did hold the 2,933 level, however, this morning the futures are trading at 2,886 as the yuan plunges to a 7 year low against the dollar and yields are imploding.  The issue is many funds will start to go net short on a daily basis if the S&P index closes below 2,888.  The next support level is 2,877, which unless the trade war rhetoric doesn't come to a head quickly will not hold.
July 31st
As we said on July 29th the risk was too great and we thought the markets would be disappointed and that is exactly what happened. What caused the S&P 500 to correct 32.80 points today was the Fed referencing a "Mid Cycle" move.  Implying that this was not a new easing cycle and leaving the future of more cut uncertain.  As the S&P 500 fell 52 points Powell slightly took back this statement.
The next level of support on the S&P 500 is around 2,933 on a daily level.  If we can bounce off this 2,933 level, the market has a real chance of regaining the old highs to push higher.
Click to enlarge. 

July 29th
Just one small note for Wednesdays Fed statement on rates.  Conventional wisdom has rallied the S&P 500 almost 11% since June 1st because the Fed is going to ease.  While the blended S&P 500 model is not that extended/overbought. I think the market is going to be disappointed on Wednesday unless the Fed moves 50 bps and explains that they don't see downside risk to the economy, which is unlikely.  I think the risk is just too great for any investor who is not long term and not risk-averse.   The Fed may use a shock and awe approach and do .50bps, but ultimately they are backed into the corner regardless.
A look at why Morgan Stanley thinks the Fed needs to cut .50bps and won't matter. 
As Morgan Stanley credit strategist Matthew Hornbach writes, one needs to look at the first cut in 2007 without the benefit of hindsight – meaning, the Fed's decision to cut 50bp had nothing to do with the coming financial crisis. It was about lessening downside risks coming from tighter financial conditions. Fast forward to today when it's about downside risks coming from global growth and trade uncertainty.
Almost all U.S. domestic data today 2019 is worse than 2007 excluding the unemployment rate.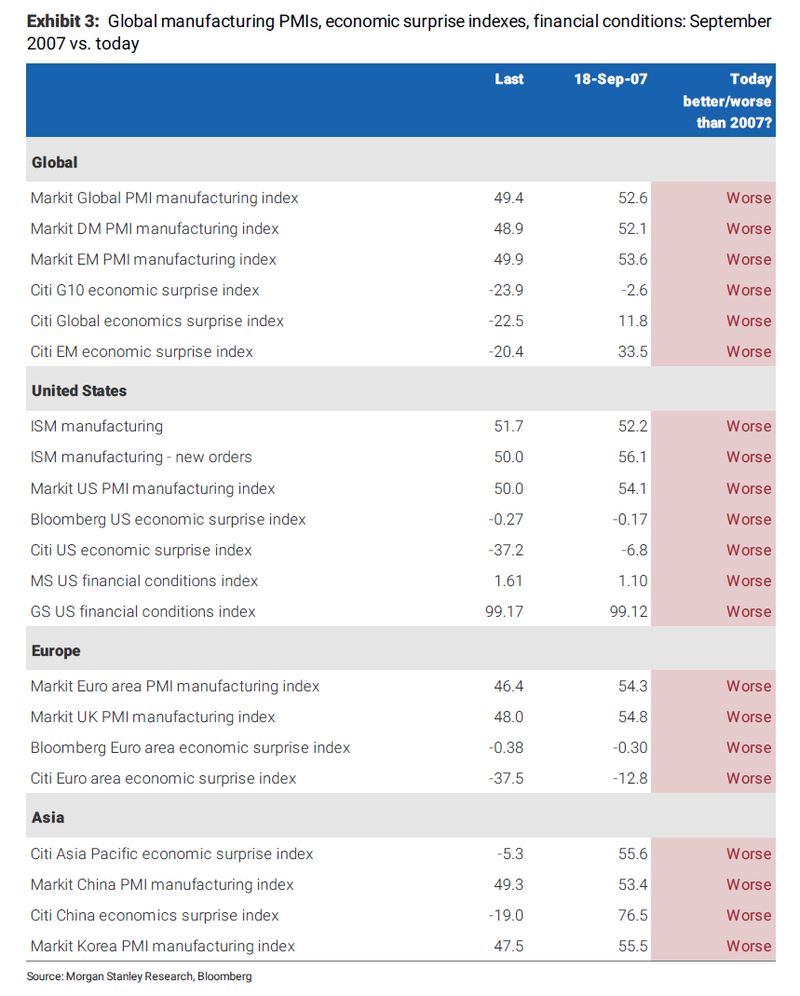 July 23rd
I have little insight to report at this juncture as the Fed is on a quiet period until next Wed the 31st.  I think the market will be disappointed if the Fed cuts the projected .25% and says they will leave the window open. Morgan Stanley was out last week and believe the Fed needs to move .50% because the economic conditions globally are getting much worse than anyone realizes.  On the contrary, this earning season, I personally have not heard/seen many CEO's on earnings transcripts that downbeat.
Voting Fed member Eric Rosengren was interviewed last week on CNBC and clearly doesn't see the need to cut at all and said he is watching this Fridays GDP closely.  I think a strong GDP is going to impact Wednesday's Fed decision.
July 17th
Since our last post on July 5th, the S&P 500 hit a high of 3,017.  For those investors who want to be tactical, raising some cash at this level would be warranted.  I can't remember the last time we suggested raising some cash.  While I still believe the market will see a major blow-off top (3,200 to 3,400) before the greatest bull market rally is over, however, I think we can add some cash for better opportunities.
We are at a level on the S&P 500 model that is a make or break for a greater rally or failure in the shorter term, which leads me to be slightly cautious. 

Recap of developments:
The Fed is going to move to cut regardless of seemingly stronger retail sales and unemployment data.  The question is, will it be a .25%, .50% or .75% cut?
Trump tweeted yesterday a trade deal is far from complete (7.16.2019)
Lastly, we are just starting earnings and the biggest bell-weather names have yet to report.  My feeling is earning have been low balled.
Daily support for the S&P is 2,931.
July 5th
We have been saying for several weeks now that the market was much too optimistic that the Fed was going to ease.  This morning we got monthly payrolls and it came in much stronger than expected.  The 10-year yield jumped 4.06%, significantly reducing the odds of a 50 bps cut in July.  The market is still smelling a .25% for July. I personally, don't like markets that go up on multiple expansion vs earning expansion.
Our June 16th Big Bull case of 3,000 was achieved in the futures on July 4th hitting 3006.  I don't think this bull run is over just yet.  I believe the longest expansion in history will end with a massive blow-off top, which could be a long way off. However, I think the markets will see lower pricing in the near term as the markets become worried about the Fed's rate path.
July 1st
As we mentioned on June 26th, "If a deal were to be finalized, the odds will significantly diminish that the Fed will move to cut in July and that means more pain within Staples, Utilities, and REITs". 
While no deal came out of the G-20, there was a cease-fire and a small positive as Trump extends and an olive branch with Hawaii.  However, how does the Fed really cut in July with the S&P 500 making a new all-time high and the trade war deal getting closer?  The market is going to push any cuts out further, I think the risk is increasing as the market is overly optimistic on a cut in July.
June 26th
Today was very interesting for a few reasons.  Crowded interest rate sensitive sectors like REITs, Utilities, and Staples were hammered today.   While it's impossible to time the potential mean reversion within these sectors, they were crowded as the 10-year yield plunge below 2% from Dec 2.90% level.
Today the 10-year yield jumped 3.14% while the 5-year yield jumped 4.10% off the back of a totally miss read headline. However, the news-driven algo's got a hold of the news as a positive for yields and a hawkish Fed. CNBC reported that Munchin said the U.S. was 90% close to completing a deal.  Unfortunately, he was referencing the past, that the U.S. was "previously 90%" at a completed trade deal.
If a deal were to be finalized, the odds will significantly diminish that the Fed will move to cut in July and that means more pain within Staples, Utilities, and REITs.  I think these sectors could be interesting after a trade deal and they see more downside.
As for now, having a higher than normal level of cash is warranted as Trump XI will meet on Sunday.
June 22nd
The July Fed Funds forecasted early June was pricing in a .25bps cut by 80% helped to fuel the S&P 500s gains shortly after the Mexico trade deal.  Even though by the time the Fed announced its statement on Wednesday the 19th with a 100% Fed funds rate cute, the markets continued to rally another 1% after the Fed's decision.  Why?  Jerome Powell sited more concern over the headwinds caused by the trade war coupled with an overwhelming decision from the Fed governors agreeing a cute was likely.
The three cases listed below on July 16th seem to fall between 1 and 2, however, we won't know until the G-20 this week.  I think once again the markets are a little too optimistic that anything will get gone this week.  I do, however, think if the market is disappointed this week with the g-20 outcome investors will buy the dip in the 2,900 level as the Fed will move in July.
June 16th
Big week coming up, let me stress big.  The market remained bid up all week as expectations for the Fed to move in July are being priced in by 80% according to fed fund futures.  Additionally, G-20 is upon us and Trump will potentially meet Xi.
My best guess for the most bullish, mildly bullish and bearish outcomes are as is follows:
The Big Bull case could take the S&P 500 to 2,960 to 3,000 if the Fed removes the word patient form their language and signals they are cutting a .25% in July.  Additionally, Trump meets Xi and both parties agree on moving forward on a deal.
The mildly bullish case could take the S&P 500 to 2,950.  The Fed removes the word patient form their language and signals they are cutting .25% cut in July.  However, no progress on the trade deal materializes with no new information.
Lastly, the Bearish case 2,680 to 2,725.  The Fed remains patient and no cut in July coupled with Xi not meeting Trump at the G-20.   I think this would be an amazing opportunity to buy here as Trump will start to cave to weak risk assets and the Fed will cut in Sept from further trade tension.  I am not even sure this scenario would play out to 2,725 as the market already knows both the Fed and Trump will most likely folding to the equity markets.
June 10th
Not much to discuss except the obvious trace with Mexico tariffs, for now, that was announced after the close on Friday.  The S&P futures intraday rallied 30 points to 2,905.75 before reversing to close at 2,888.   The next level of major resistance is around 2912, a close above that once again will get short to panic and take the index to 2,966.
Amazingly, if you said the market is pricing a 30% chance of a rate cut in July and 50% in Sept and the 10-year yield is trading at 2.14% down from this year high of 3.24% and the S&P 500 is only 60 points from an all-time high I would say your crazy.  As I mentioned on Friday I think we do retest those highs as everyone is positioned wrong or defensive and a lot of the bad news is priced in at this point.  The Fed needs to turn more hawkish or Trump doesn't meet Xi for the S&P 500 to retest 2,725.  I think the market might just trade in this wide zone for the next month.  The bottom line is the Fed continues to keep asset prices lofty, but investors can keep taking advantage if they can control their risk.
June 7th
Note:  June 4th commentary: Correction below meant 2,839 not 2,739 as next major resistance level 
Three big positive catalysts today taking the S&P 500 to a high of 2,885 for a close at 2,873.34. Here are the catalysts:

The Fed is in play as the jobs number came in weak, missing estimates by almost 110,000 jobs.  This was largely expected to be a miss, but not this large. My feeling is that we are at full employment and this is not a signal for real economic contraction, but I digress. The market believes growth is contracting and has been for the last 2 months and wants the Fed to cut.  This, in my opinion, was not the reason for the 30 point rally, however.
The majority of the rally was caused by the Administration's announcement shortly after the jobs numbers:

*U.S. GIVES SOME CHINA PRODUCTS MORE TIME TO AVOID TARIFF HIKE
*U.S.: TARIFFS WON'T GO UP UNTIL JUNE 15 FOR SOME CHINA GOODS

Then lastly Mexico showed yet another act of good faith on Thursday – freezing the bank accounts of 26 alleged human traffickers.
Conclusion: We are only 2.5% from the all-time high on the S&P 500's "2,954.13".  I believe with investors currently positioned in defensive mood and whipsawed in May, that there is a good chance the S&P 500 will retest 2,954.  2,954 will be the hardest trade in a long time once or IF we can get there.  The reason is, as I mentioned in my email to everyone "expect the unexpected".  If we can make new highs and breakout, it will be dependent upon the Fed coupled with China.  The really challenging part will be if there is a trade deal, rates will spike with the curve possibly uninverting and the Fed "might" change their easing policy.  The bottom line is we just can't forecast this possible outcome until we get closer.
Note: 
Lastly, many of you have entrusted us to manage your money at Trowbridge Capital Partners and we have been honored and take the responsibility very seriously.  We understand for those investors managing risk is vital.   We wanted to highlight out Dynamic Low Volatility strategy for those who are heading into retirement or are retired.   The product's benchmark is the Equity hedge index as it is a low beta product that can raise a lot of cash.
Month of May
Dynamic Low Vol (Advisor):            -0.24%
Equity Hedge Index (HFRXEH)           -2.02%
Variance:                                              +1.78%
S&P 500                                                -6.35%
Variance:                                              +6.11%
If you would like to speak to me about this strategy please call me at 917-653-3153 or email me at brett@trowbridgellc.com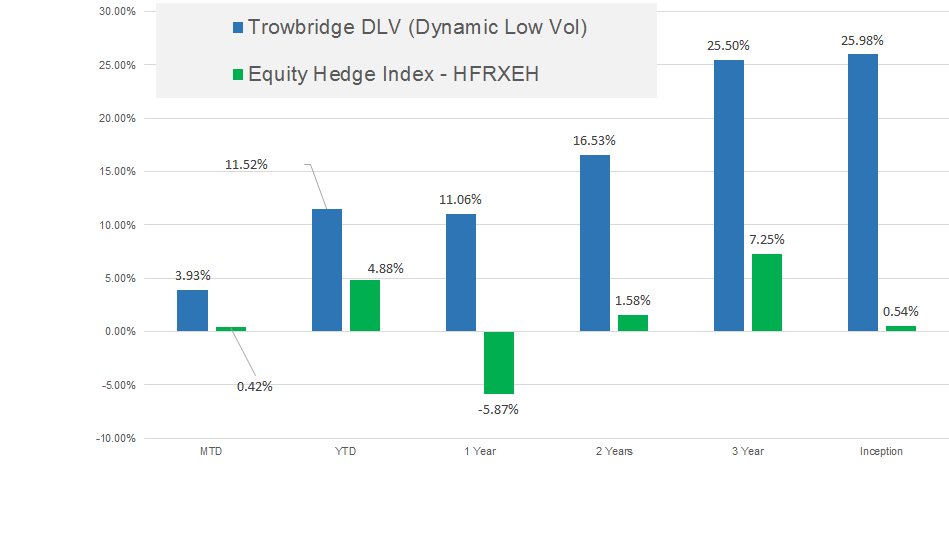 S&P 500 Monthly Returns have been calculated using Morningstar S&P 500 TR and Yahoo Finance Daily data. PAST PERFORMANCE IS NOT INDICATIVE OF FUTURE RESULTS. The performance figures are net of fee performance for a subadvisor fee of .35%.  Actual investment advisory fees incurred by clients may vary.  Since inception, all return on capital has been partners allocations of capital and has been solely managed by Trowbridge's Chief Investment Officer.
June 4th
Correction below meant 2,839 not 2,739 as next major resistance level 
As we mentioned 2,725 needed to hold on the S&P, yesterday the index tested a low of 2728.
As we mentioned we thought -17 the index would start to find buyer, however, the index bounced today off of -6.
Three positive catalysts today propelled the S&P 500 to 2,803 up 58.80 points.

China softens its trade war rhetoric by saying they are willing to talk, but the U.S. has to realize they must see they are not 100% right.  While this doesn't seem extremely bullish, it is extending an olive branch.
Mexicos prime minister said today they believe a resolution can be achieved on border issues.
Lastly and equally important was Fed Chairman Powell coming across more dovish today, by saying he is open to unconventional measures.  One statement from Powell's statement, We are closely monitoring the implications of these developments for the U.S. economic outlook and, as always, we will act as appropriate to sustain the expansion, with a strong labor market and inflation near our symmetric 2 percent objective."

Conclusion, the economic data has been contracting both domestically and globally.  For one data point as an example, as Global manufacturing PMI contracts to a 7 year low.  As far as the inverted yield curve stands as an economic indicator, I am putting less credence into the inversion based on global trade concerns. However, these trade wars can not linger or I believe it will really show up in q3 earnings.  The next major test of the S&P is 2,739 (2,839).  Tomorrow we have Mexico coming to Washington and I believe some of today's rally was built on a bullish outcome.
May 31st
What we know:
 China PMI economic data came in weaker than expected, global growth looks to be declining more.
 The yield on the 10 years is approaching Sept 2017 lows of 2.04%
 Credit spreads are approaching Dec 2018 levels
 Our S&P 500 model feel from our risk off 90 reading to 12 on Friday, tomorrow will be updated, we will see where the model is tomorrow.   As I mentioned yesterday, I think around -17 the S&P 500 will start to find buyers.
 2,725 needs to hold or the flood gates will cause sellers to pressure the index to 2,655.
Have a good weekend and I will update the commentary over the weekend during this period of uncertainty.

May 29th
Saved at the 200-day moving average at 2,776.  As most of you know, we don't put too much validity into the 200 day.  It's just not that significant.  I still remain cautious as the rhetoric out of China is increasing.  Mike Wilson, Chief investment strategist at Morgan Stanley who has been rather good over the last 2 years was out with a note today.  He said regardless of a truce in the trade war, the odds of a recession is still high.   I personally don't like to pile on after the fact, so let's just keep watch on pure price for now.
Back on May 13th, I said,
"I can't handicap this trade war, but what I do know is there is a lot of new information that the markets did not have priced in.  When momentum breaks this bad off a 90 reading, it doesn't stop and reverses that quickly for a U-turn.  What next, the market needs to hold 2780 on a daily close or we could see 2,725.  While I don't know if we can close below 2,780, I don't see any clarity on getting a deal done at this point. Once the market stabilizes semi's will be an area of opportunity".
I am now looking for a retracement to 0, at which time semi like SMH ETF might be an opportunity.  Of course, we won't know what tomorrow brings.

May 28th
While I said in my last post I believe the markets are trying their best to hold out hope for the G-20 meeting, I don't think the markets are right.  I now am starting to see cracks in the yield curve, regardless if this is a long lagging indicator the equity markets will get scared.  The yield curve is now inverted against the 3 month and the 10 Year yield is at the lowest level since Oct 2017.  I think there is more pain ahead as China is not going to bend and nor will Trump.   A close below 2,789 is going to cause real pain, so be careful trying to deploy capital.  Additionally, today was the first day in a while even defensive sector lagged beta like technology in a market sell off.
May 22nd
I have been keeping the posts very light as I have very little on market visibility with the current developments of the trade war.  As I mentioned before, China completely redlined the entire agreement that was in place according to the New Times.  Trump I had believed wanted a deal for reelection, but at this point, I believe he will use a none deal to his advantage for his campaign.
I do believe the markets will hold up rather well leading into the G-20 which will be a complete disappointment. The trade war keeps getting worse as many U.S. companies are restricted to do business with Huawei.  The latest blow was Google on Sunday was restricted to provide the Android operating system to the company.  However, the market rallied yesterday as Google was given a reprieve for 6 months until Huawei found a new operating system.  Maybe I will be wrong about the G-20 and be pleasantly surprised some progress will be made.  For those Apple lovers, be cautious because if the trade war really heats up, China will come after Apple.  The only defense Apple has which is a big one is 2 million employees in China and China does not want to lose those workers to another country.
While I do believe it is vital for the U.S. to protect its IP and the country's edge in technology, it could eventually be the nail in the coffin for the U.S. expansion if this is prolonged.  We have not even seen many Semiconductor companies guide lower yet, which they will have to.
Even perceived safety trades are getting expensive from defensive play like utilities and REITs, but with further risk, I assume these sectors will hold up.
Note: Many ChartLabPro members have trusted us with their hard earned money and invested in Trowbridge Capital Partners.  We are honored and take this responsibility very seriously to help protect and grow their assets.  For those of you who want an investment solution that will help you sleep at night, the Dynamic Low Volatility portfolio makes a lot of sense.   I provided some details below based on 5.15.2019 12:00 EST.
The DLV strategy is benchmarked against the Equity Hedge Index as the two strategies historical beta align rather closely.  Yet, their correlation to each other is about .41, which means DLV could be a good diversifier away from investors equity hedge allocation.
If you would like to speak with me about the DLV portfolio please call me at 917.653.3153 or email me at brett@trowbridgellc.com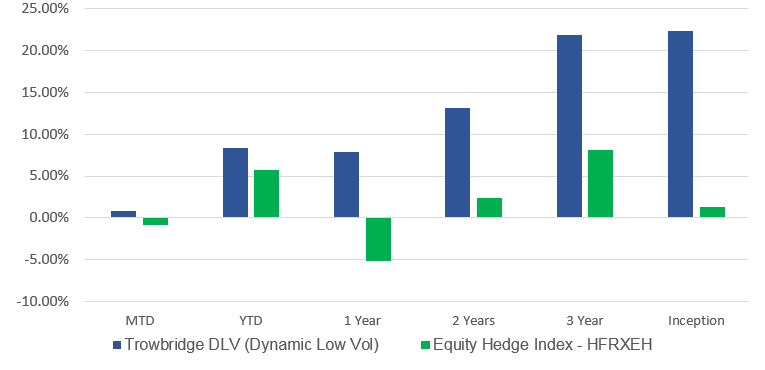 S&P 500 Monthly Returns have been calculated using Morningstar S&P 500 TR and Yahoo Finance Daily data. PAST PERFORMANCE IS NOT INDICATIVE OF FUTURE RESULTS. The performance figures are net of fee performance for a subadvisor fee of .35%.  Actual investment advisory fees incurred by clients may vary.  Since inception, all return on capital has been partners allocations of capital and has been solely managed by Trowbridge's Chief Investment Officer.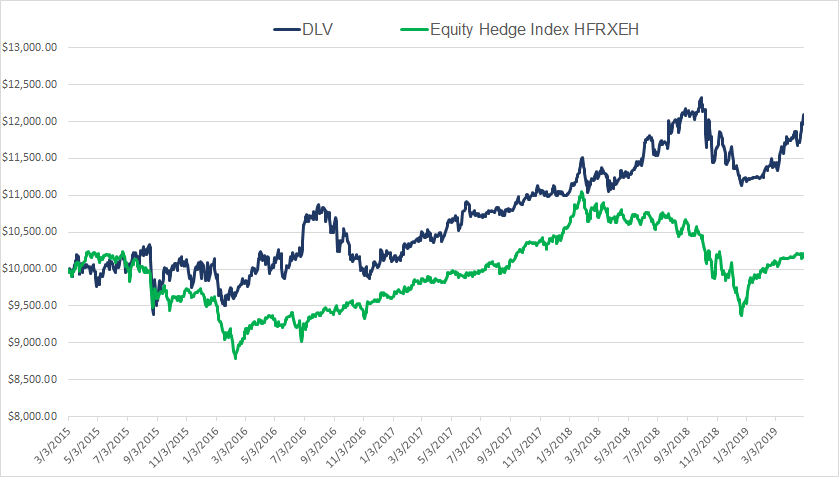 S&P 500 Monthly Returns have been calculated using Morningstar S&P 500 TR and Yahoo Finance Daily data. PAST PERFORMANCE IS NOT INDICATIVE OF FUTURE RESULTS. The performance figures are net of fee performance for a subadvisor fee of .35%.  Actual investment advisory fees incurred by clients may vary.  Since inception, all return on capital has been partners allocations of capital and has been solely managed by Trowbridge's Chief Investment Officer.
May 13th
Just wow, talk about investors being blindsided.  The deal was 100% priced in and in reality, the deal wasn't even 50% complete.  Who knows the truth if China really backed away, it doesn't matter, we now need to deal with the hand we were dealt. What matters is nothing is going to happen for a few months.  The odds of a pullback were high as we all know, the blended S&P 500 model was reaching 90 plus.  When the model approaches 90 plus, investors will get scared with any negative catalyst as they do not want to be the last bag holder.
I can't handicap this trade war, but what I do know is there is a lot of new information that the markets did not have priced in.  When momentum breaks this bad off a 90 reading, it doesn't stop and reverses that quickly for a U-turn.  What next, the market needs to hold 2780 on a daily close or we could see 2,725.  While I don't know if we can close below 2,780, I don't see any clarity on getting a deal done at this point. Once the market stabilizes semi's will be an area of opportunity.
May 5th
Sunday night we have the futures down 54 points as of 9:00am EST.  The catalyst is the obvious, President Trump threatening China with an additional 15% tariffs on the $200 billion.
Take away:
2,882 on the S&P 500 is a big level on the daily chart, this needs to hold on the day.
Trump has some strong ammunition for bargaining, strong economic data and a market at all-time highs.
I believe his tactic is close to the deal and bring China over the 1-yard line.  He knows he needs to get this deal done.  I find it very hard to believe he is going to let China go at this point.
2,882 is the support I am looking for to hold tomorrow.
May 3rd
Better than expected job number with wage inflation coming in less than expected gave the market a lift.  The S&P 500 closed 0.43 point from an all-time closing high at 2,945.40.
Next week we will possibly get a China deal with is 99% price in and a 40 point rally in the S&P 500 should be an opportunity to reduce long exposure.   This will take the index to 2,980 to 3,000.
April 30th
Apple boom Google bust, neither in my opinion really make that much of a difference in the direction of the overall market.  However, Apple is the second largest weight in the index at 3.60%, which has the S&P futures tonight at an all-time high.   Earnings overall have been rather good and for the stocks that have corrected off of earnings were up 20% to 30% Q over Q.
I have very little insight other to say that I still believe that the S&P 500 will reach an overbought level on the counter-trend of -69 and or above a 90 on the blended model.  The next big level is only 30 points away at 2,980.
The conclusion is the same as April 23rd:
I now think it's very possible to see the S&P 500 model at 90 to 95.  If "we – members" were lucky enough to see a 95 reading on the S&P model, reducing significant long exposure would be warranted. 2,980 is the next major resistance level for the S&P 500.
April 27th
GDP came in 90bps higher than expected, hitting 3.5% for Q1.  But this is backward looking so I wouldn't read too much into it.
Yields took a dive lower, which is either the market saw no inflation in GDP or doesn't believe that number won't be revised lower.  Either way, the Fed is screwed as the markets do not believe even if the economy runs hot that the Fed will increase rates.  This ultimately will be the downfall of the market just like Q4 2018. When this happens who knows and at what levels, but eventually it will be very painful.
Intel which is a great market tell got smoked 10% as the company saw weaker demand and sees weaker pricing on memory.  This is certainly not encouraging as Semis lead recovery and lead to economic weakness.
We closed at a new all-time high of 2,939.88

Like I said on April 7th, we would correct or we would get a parabolic push to 90 which. Currently, we are at 85 on the S&P 500 model.
Like I said on April 16th it was likely we would see 2,940 before a China Trade Deal.
Like I said on April 23rd I now think it's very possible to see the S&P 500 model at 90 to 95.  If "we – members" were lucky enough to see a 95 reading on the S&P model, reducing significant long exposure would be warranted. 2,980 is the next major resistance level for the S&P 500.
April 23rd
Now the hard part!
It really has not been hard to put your neck out and call for a retest of all-time highs over the last month or two.  Now is the hard part!  The S&P 500 closed at an all-time high today at 2,933.68 above the previous closing high of 2,929.67.
On April 16th I said, "pain is going to be a massive short squeeze higher".  I believe this is going to be the case as earnings season kicks in and the China deal is another month away.
On April 7th I said, "the S&P 500 model will either start to finally correct here or jump to the 90 level for one large parabolic push higher.  While we have no idea what tomorrow will bring, we are going into earnings season with low ball estimates and it won't be hard to beat this quarter".
Conclusion:
I now think it's very possible to see the S&P 500 model at 90 to 95.  If "we – members" were lucky enough to see a 95 reading on the S&P model, reducing significant long exposure would be warranted. 2,980 is the next major resistance level for the S&P 500.
April 16th
Once again nothing has changed in the last 7 trading days. The S&P 500 model is now at 79.30 and at this juncture, I think the pain is going to be a massive short squeeze higher if the model remains above 80.  While I would expect profit taking on a final china deal as I mentioned on April 7th, although, 2,940 at this point seems likely before a deal is achieved.
This is the biggest V shape rally I have personally seen and that the model has seen going back to 1992.

April 7th
One quick note as very little has changed since April 1st.  The blended S&P 500 model is now at a 75.  This is make or break time for the S&P 500.  As seen below, the model will either start to finally correct here or jump to the 90 level for one large parabolic push higher.  While we have no idea what tomorrow will bring, we are going into earnings season with low ball estimates and it won't be hard to beat this quarter.  I am leaning towards a deal with China that takes the S&P 500 to 2,940 and then sells off on the deal announcement.  If the market doesn't sell on a China deal then the model could propel to 90 and take the index to 3,000.  While this is not an investment strategy, this is my current thought based on the models reading.

April 1st
The market has had every opportunity to sell off and has been relentlessly strong. The market realizes the economy is weak and any good economic data will help push the market higher, with the exception of stronger inflation.
Today, we got better than expected manufacturing from China and the U.S., however, Germany continues to be weak.  Retail sales in the U.S. were rather weak.  The yield curve uninverted on Friday and really steepened today with the 10-year yield jumping 3.39%.  I don't think the yield curve is a viable trading signal because it lags so much anyway.
I think we can all see that at this point the S&P 500 without any negative news is going for the 2,910 and 2,943 level.  I find it hard to believe the market has rallied from 2,400 to 2,867, 70 points from all time high and not going to test it.
My original assessment of reaching 2,888 if we closed above 2,815 seems like a reality this week, if not tomorrow.  Remember, when you make new all-time highs there is very little supply of overhead resistance since we have never been there before.  This means the markets could hit an air pocket to the upside with a large push higher.  While it's hard to fathom the market could rally 600 S&P points or 25% in 4 months, it is now not out of the realm of reality.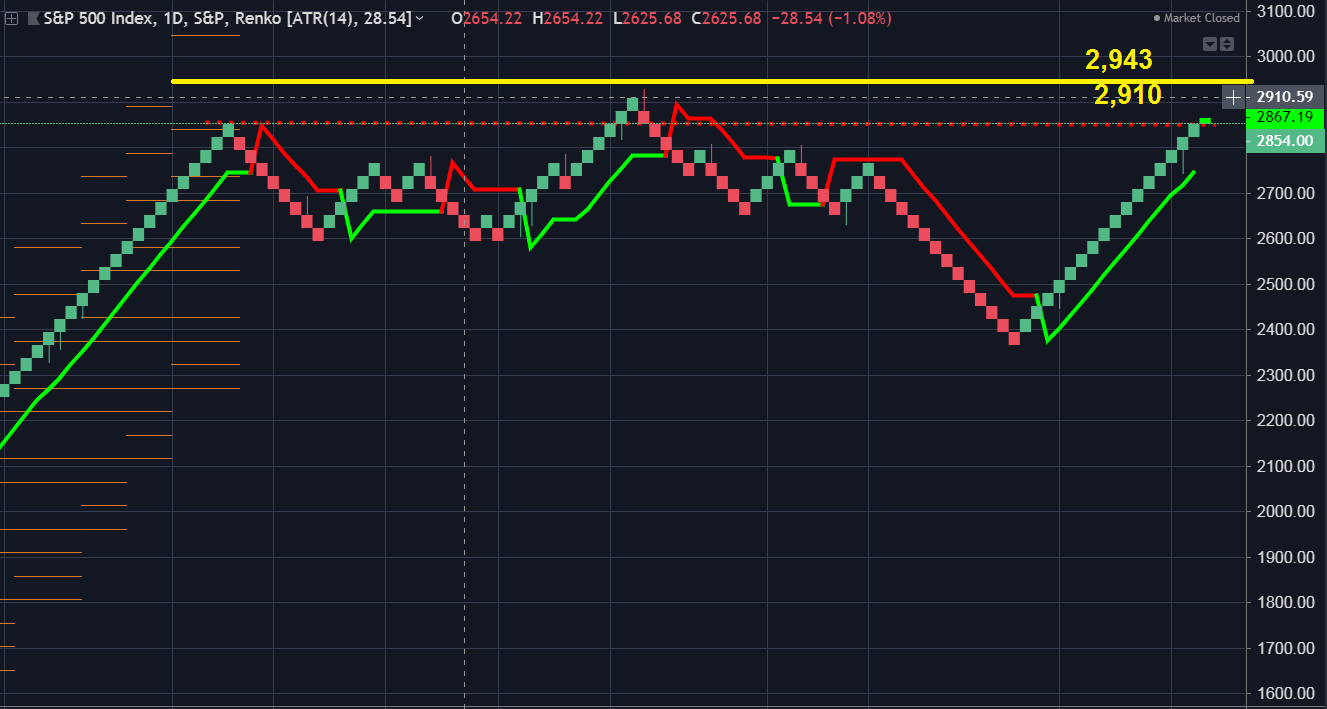 March 27th
Unfortunately, I don't have much to discuss since our last post on March 22nd except the obvious.  Yields continued to get crushed.  The 10 Year yield is now sitting at 2.38% vs the 3 MTH at 2.44%.  The 10-year yield is now at Dec 2017 lows.  There has been a lot of debate regarding how the negative yield curve and how long it needs to be inverted and how long a recession happens once the curve inverts.  I have yet seen any meaningful research regarding the viability of a good investment signal that warrants discussing.